2017 Artist-in-Residence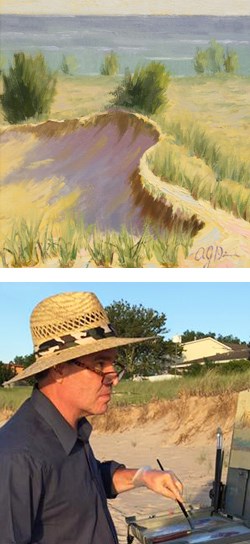 2017 Artist-in-Residence, Andrew J. Deiser
At the age of ten, Andrew took his first painting lesson and has been drawing and painting ever since. Painting allows him to tap into his creative side, and a weekend of painting outdoors takes away the concerns of everyday life and puts him in touch with a presence that permeates nature. A native of Fort Wayne, Indiana, Andrew has lived and worked in Little Rock, Arkansas, since 2003. In 2012, he took his first plein air workshop and became hooked on painting outdoors. Andrew currently serves as chair of the Department of World Languages at the University of Arkansas Little Rock and paints on the weekends. He shows his paintings at local venues and has the goal of painting full time in the future.

The summer 2017 Artist-in-Residence Program at the Indiana Dunes National Lakeshore was a great way for Andrew to reconnect with his past. He had visited the Indiana Dunes several times with his family as a child, and while attending graduate school at Indiana University, he often visited friends in Ogden Dunes. Andrew notes that the Artist-in-Residence Program allowed him to return to a familiar place but with a new set of eyes. He especially enjoyed painting the dunes and beaches in the early morning light and at sunset. "My experience as an Artist-in-Residence at the Indiana Dunes National Lakeshore was both challenging and rewarding, and I look forward to applying for more artist-in-residence programs at other national parks."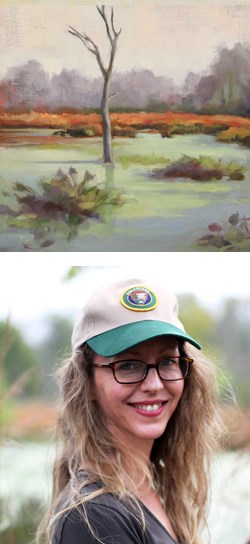 2017 Artist-in-Residence, Anna Cox
Anna Cox has painted landscapes in the South Carolina Lowcountry since 2008. In 2017, she had the opportunity to paint across the country through three National Park Service artist-in-residencies.

During her two week residency at Indiana Dunes National Lakeshore, Anna was amazed by the various ecosystems within close proximity. She was particularly captivated by the Great Marsh, and she could be found there most days taking field notes and painting studies. When not painting, she enjoyed hiking various trails through the black oak savannahs, tall grass prairies, dunes and along the beach. She was thrilled to see the Century of Progress Homes in the park, which relate to her interior and architecture academic background.

Anna has a BFA in Interior Design from Winthrop University and a Masters in Urban and Regional Planning from Virginia Tech. While she worked as an interior designer in the metro DC area, she was introduced to oil painting in an evening class at the Corcoran School of Art & Design. When Anna moved to Charleston, SC, she found the landscape to be a perfect subject.

"Peaceful observation is what I intend to communicate through my work. Painting is a time for me to slow down and truly examine what I see – the relationships between colors and shapes and how light creates form." She wants her work to convey a shared respect, gratitude, and love for nature that supports and connects everyone.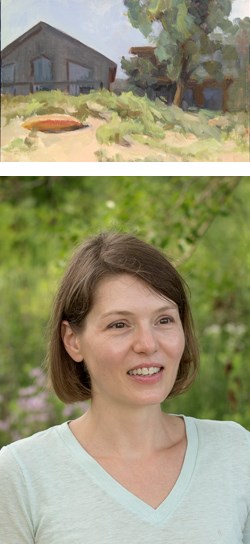 2017 Artist-in-Residence, Anne-Karine Bley
Originally from nearby Chesterton, Anne-Karine has always had a deep and sentimental attachment to the Duneland area. During her residency she was particularly interested in the relationships between the Park, its visitors, neighbors and the surrounding industry. Hearing individual stories and conversing with the public was one of the highlights of her experience.

Anne-Karine began her development as an artist in her youth. Her studies included weekly watercolor classes and a summer session at the Art Institute of Chicago. She later attended Indiana University and received a BFA in Painting and a BA in Art History.

Anne-Karine currently lives in Bloomington, Indiana where she is active in the Bloomington Watercolor Society, Upland Painters, and Indiana Plein Air Painters Associations. She has a particular fondness for painting on location and participates regularly in paint outs.

"Painting for me is an immersive and contemplative experience. My work is a direct reflection of my observations at that particular moment. While my paintings are representational, I try to look beyond the tangible to the simplified abstractions of shape and color."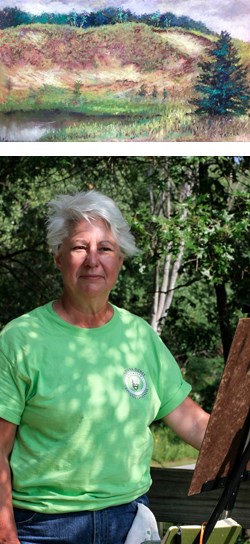 2017 Artist-in-Residence, Mary Ann Trzyna
Mary Ann Trzyna graduated from the University of Illinois, Chicago with a degree in studio arts. She has worked as a freelance graphic designer for over 15 years while also pursuing her personal work in the fine arts. Most of her current work is landscape and still life paintings in pastel or oil.

Her studio is located at Union Street Gallery in Chicago Heights, a professional artists' cooperative where she keeps regular studio hours and enjoys the frequent interaction with other artists that being part of the cooperative allows. Mary Ann is determined to continuously challenge herself to be an active productive artist, to improve her skills and support the arts community.

The Artist in Residency program at the Indiana Dunes provided Mary Ann with the opportunity to devote two full weeks to painting en plein air in an inspiring natural environment. At the end of the residency, she came home with over 15 completed paintings. A full sketchbook and hundreds of photos continue to be sources for additional paintings since the residency.

Additional paintings inspired by the Indiana Dunes can be found at her website.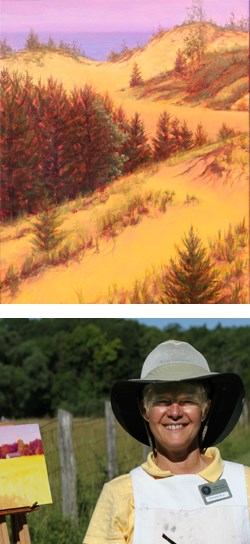 2017 Artist-in-Residence, Simonne Roy
Simonne Roy is a full-time landscape painter with a lively career involving plein air painting, artist residencies (in the United States and France), shows, commissions and competitions.

She maintains an art studio and gallery in Lewisburg, Pennsylvania and sells her colorful paintings online (www.simonneroy.com), at exhibits, and through galleries.

A life-long resident of Pennsylvania, Roy has been painting outdoors since she was a child. After graduating magna cum laude from Mount Holyoke College and obtaining a law degree from Northeastern University School of Law, she simultaneously practiced law and studied art for thirty years. She credits Lois Griffel, Master Signature Artist of the American Impressionist Society and past director of the Cape Cod School of Art as being her most important teacher.

From 2012-2014 Roy lived and painted full time in France and made the transition from law to art, coming home as a professional artist. She returned to France in 2018 to further her study of French landscapes.

Roy's reverence for nature is evident in the work she did during her two-week artist residency at Indiana Dunes National Lakeshore in 2017. More of Roy's paintings of the Dunes can be viewed at her website.
Last updated: October 1, 2018