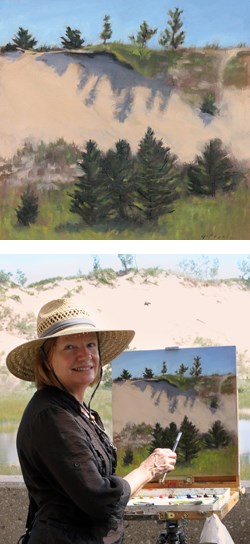 2014 Artist-in-Residence, Gail Franke
Gail Franke is now a full time artist. She paints in oils because she loves the rich color, the ability to apply a thickness of paint, and since oil paint dries slower, the ability to change her painting until satisfied that she has captured what is intended to be on her canvas. Her fascination for boldly defined shapes, both in value, and in contrasting colors, is often key elements that she looks for when beginning a painting. She paints in studio, but increasingly finds a draw to painting outside, even in the winter. She feels that she sees more clearly in the beautiful subtlety of colors, while directly painting from nature. This adds to her beliefs that plein air painting enhances her studio work, and that painting landscapes, with light changing quickly throughout the day, is exciting and challenging.
Gail Franke also loves to paint street scenes with people going about their everyday activities. She often takes her camera along as she travels, and takes numerous photographs of people. Once she returns to her studio, she uses the photos for reference to paint scenes she found most intriguing. Gail Franke finds her studio work is a nice compliment to her plein air painting.