2014 Artist-in-Residence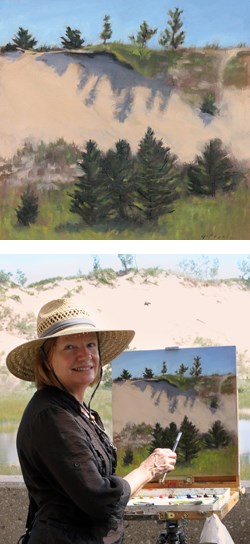 2014 Artist-in-Residence, Gail Franke
Gail Franke is now a full time artist. She paints in oils because she loves the rich color, the ability to apply a thickness of paint, and since oil paint dries slower, the ability to change her painting until satisfied that she has captured what is intended to be on her canvas. Her fascination for boldly defined shapes, both in value, and in contrasting colors, is often key elements that she looks for when beginning a painting. She paints in studio, but increasingly finds a draw to painting outside, even in the winter. She feels that she sees more clearly in the beautiful subtlety of colors, while directly painting from nature. This adds to her beliefs that plein air painting enhances her studio work, and that painting landscapes, with light changing quickly throughout the day, is exciting and challenging.
Gail Franke also loves to paint street scenes with people going about their everyday activities. She often takes her camera along as she travels, and takes numerous photographs of people. Once she returns to her studio, she uses the photos for reference to paint scenes she found most intriguing. Gail Franke finds her studio work is a nice compliment to her plein air painting.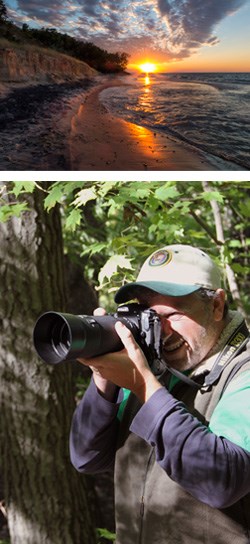 2014 Artist-in-Residence, Michael Gard
Indiana native Michael Gard has been a professional photographer since he discovered photography while a student at Indiana University and began working for the campus newspaper. This developed into a 20-year career as a photojournalist for several Indiana newspapers.

He continues to work as a photojournalist on a freelance basis for newspapers and other organizations, but his photographic interests are now focused on our National Park System and other natural spaces. It is his professional goal to visit and photograph each of the more than 400 National Park Service units nationwide. He has shown his images across the country in galleries and exhibitions from Alaska to Florida, and travels as often as possible to discover and capture new locations.

While Gard uses digital tools to capture and process his images, he refuses to use those tools to alter reality. He draws upon his decades of experience as a photojournalist to render Nature as accurately as possible and free of manipulations. He believes it is crucial that the viewer believes what they are seeing is a real place, and not some fantasy dreamscape, and hopes that the viewer will be inspired to visit the locations in his images.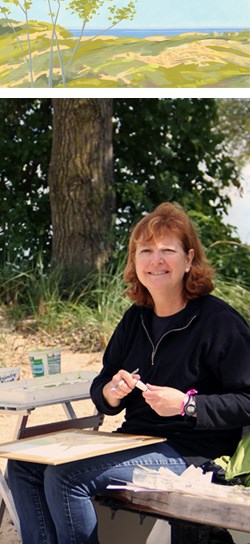 2014 Artist-in-Residence, Joan Richmond
Joan Richmond, primarily a landscape painter, works both in open air and in her studio in Traverse City, Michigan. She enjoys the visual inspiration that the upper Midwest United States provides and has also painted along the west coast of Ireland, the North Channel in Canada and the city of Rome, Italy.

Richmond, a graduate of the Art Academy of Cincinnati, also holds an MFA from the University of Notre Dame. She taught painting for 10 years at Northwestern Michigan College and continues to instruct drawing and painting workshops.

Richmond believes that direct observation of nature is an essential process for the artist. Critical seeing informs the artist's visual and emotional responses that lead to the construction of the image—no matter how illusionistic or abstract. Major influences of her development include the work of Cezanne, Corot, Matisse, Morandi, Fairfield Porter and Louisa Matthiasdottir.

Richmond exhibits regionally and is represented in a number of corporate collections throughout the Midwest. She was an Artist in Residence at the Indiana Dunes National Lakeshore in the fall of 2014, a visiting artist at the American Academy in Rome the spring of 2015 and 2016, and the 2016 Ann Hall Artist in Residence at the Leelanau Community Cultural Center, Michigan.

Visit her website at joanrichmondart.com for more information and to view a gallery of her images.
Last updated: November 9, 2016