Our Partners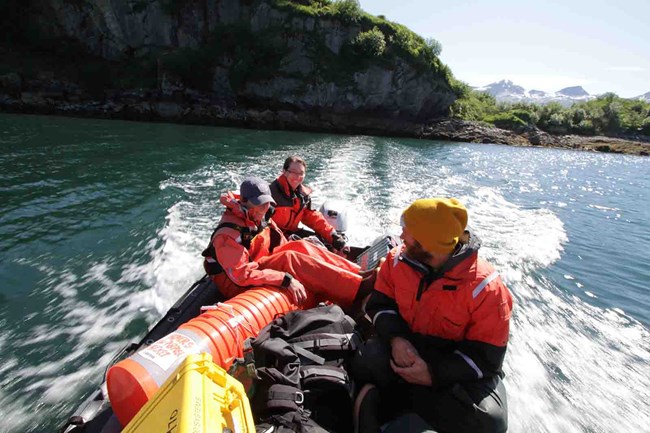 Nearshore Monitoring Partners
Shallow marine habitats and primary production provided through kelps, other seaweeds, and seagrasses contribute to a distinctive food web where benthic invertebrates transfer energy to higher trophic levels. By examining a variety of metrics over space and time, we can begin to infer causes of observed change. Because of implicit linkages and spatial extent of data collection in the nearshore marine monitoring design, we anticipate being able to improve our ability to assign cause of change for an array of species. This enhanced understanding will promote conservation and improve management of natural resources.

Since 2002, a multi-agency effort has designed, tested, and implemented a nearshore monitoring program. We have partnered with the U.S. Geological Survey Alaska Science Center, the National Oceanic and Atmospheric Administration, the University of Alaska Fairbanks Institute of Arctic Biology and College of Fisheries and Ocean Sciences, the Alaska Ocean Observing System, and Gulf Watch Alaska to ensure coastal monitoring along the Gulf of Alaska continues.

The Ocean Alaska Science and Learning Center and the Alaska SeaLife Center are our partners in coastal and marine science and outreach.
More Vital Partners
We work closely with partners in much of our vital sign monitoring. Our fisheries and wildlife monitoring is coordinated with the Alaska Department of Fish and Game, and we process samples through the U.S. Geological Survey's Mercury Research Lab.
Additional cooperators we've recently worked with include the University of Alaska Fairbanks (nearshore monitoring; landscape processes), Colorado State University (sea otter monitoring), University of Montana (remote sensing of snow), Oregon State University (lichen inventories), and Humboldt State University (tree-ring studies).
Last updated: May 3, 2018