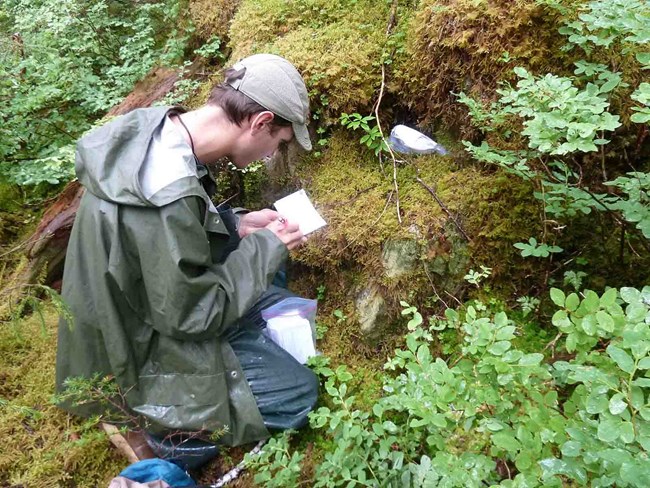 Ecoregion and Biological Diversity
Southwest Alaska parks are places where land and water meet. Lake Clark National Park and Preserve is often called "one park, four Alaskas," referring to the diversity of landscapes relative to area. This diversity feature is shared by each of the Southwest Alaska Network parklands, which collectively span three Alaska climatic zones and 11 ecoregions.
Landscape diversity, the product of diverse bedrock types and climatic and disturbance regimes, provides the template for relatively high biological diversity. Coastal Aleutian, low-Arctic, interior-boreal, and Pacific coastal floras and faunas converge in southwest Alaska, with Southwest Alaska parklands supporting 60% of the state's vascular plant flora. Vascular plant communities in the region continue to undergo changes in composition. Species distributions have shifted since the Last Glacial Maximum, and are continuing to shift. For example, Sitka spruce is migrating from the upper Alaska Peninsula west toward the Aleutians and southwest toward the Kodiak Island Archipelago, while alder has increased dramatically in the region over the last several centuries. Numerous species of animals, such as Dall's sheep, black bear, and Trumpeter Swans, also reach the limits of their statewide range in Southwest Alaska parklands.
Climate change and its influence on the distribution of plants and animals have broad implications for long-term monitoring. The geographic ranges of most plant and animal species are limited by climatic factors, including temperature, precipitation, soil moisture, humidity, and wind. Peninsular landmasses are likely to respond to climate change more rapidly and severely than mainland interior areas because of a greater coast-to-interior ratio. Colonization by new species, changes in the distribution of existing species, or changes in the timing of critical life stages or patterns of migration all have implications for park management and resource protection.