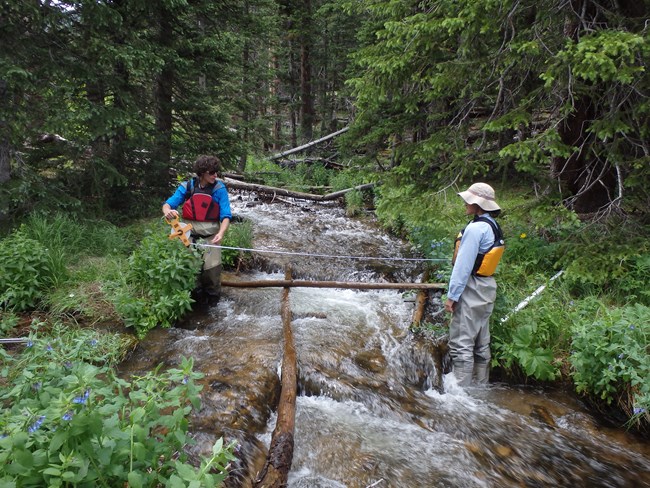 Importance/Issues
The Stream Ecological Integrity protocol addresses multiple Rocky Mountain Network vital signs: surface water dynamics, ground water dynamics, freshwater communities, invasive/exotic aquatic biota, invasive/exotic plants, water chemistry, and focal species (beaver). The protocol will be implemented in five Rocky Mountain Network parks, with initial effort focusing on Glacier National Park.
Streams and rivers are fundamental components of nearly every Rocky Mountain Network park, and their ecology is both intimately linked with and reflective of the watersheds they drain. A defining feature of streams and rivers is their dependence on the landscape for inputs of energy and nutrients; streams integrate all systems within a landscape.
Streams also support a broad spectrum of ecological services, including wildlife habitat, nutrient processing, hydrologic cycling, and multiple socioeconomic functions for humans (e.g., water sources, fisheries, recreation). Since streams are typically sensitive to stressors at both local and landscape scales, they are one of the most useful types of ecosystems for longterm ecological monitoring in the Rocky Mountain Network.
Survey-site data will be used for making statistically valid inferences about stream condition across each of the Rocky Mountain Network parks, as well as population-scale, long-term trend assessments. Sentinel sites will be used for more intensive (both in terms of sampling frequency and instrumentation) monitoring to quantify loadings, site-scale trend, and possible mechanisms. Sentinel sites will occur on reaches as required by regulatory programs, in existing long-term stream sampling locations, at key confluences, and/or at watershed pour points.
Preliminary Monitoring Objectives
Determine the seasonal, annual, and/or decadal status and trend, at the park scale, of benthos and periphyton assemblages (using multimetric and multivariate indices), physical habitat, and select physiochemical measures (e.g., NPS–Water Resources Division core parameters, anions, cations, nutrients, and sediment).
Quantify the seasonal, annual, and/or decadal patterns in benthos and periphyton assemblages, hydrologic dynamics, and physiochemical loadings of key water quality analytes (e.g., NPS–WRD core measures, any 303(d)-listed analyte, critical anions and cations, nutrients, and sediment) at sentinel stream sites.
Determine the long-term status and trend of stream length and proportion in each park where select invasive plant and aquatic taxa are present.
Determine the long-term status and trend of stream length and proportion in each park where beaver are present.
Potential Measures
Stream discharge
Habitat parameters, including stream cover for fish, and bank and riparian area status and cover
Water chemistry

At the site: acidity, dissolved oxygen, and turbidity
In the lab: metals, nitrates, carbon, sulfates, and organic compounds

Aquatic biota including benthic invertebrates and periphyton
Protocol Development and Status
The Rocky Mountain Network Streams protocol methods are largely derived from well-established and existing protocols developed by Rocky Mountain Network partners, including the U.S. Environmental Protection Agency (EPA), the U.S. Geological Survey (USGS), and the Montana Department of Environmental Quality (MT DEQ). The application of standardized protocols across the Rocky Mountain Network and partner stream monitoring sites facilitates comparison of streams and rivers within an ecoregion. A link to the Rocky Mountain Network streams protocol is provided below. We monitor streams annually using this protocol in Glacier National Park, Grant-Kohrs Ranch National Historic Site, Little Bighorn Battlefield National Monument, and Rocky Mountain National Park. In the future, we will implement stream monitoring in Great Sand Dunes National Park and Preserve as well.
Parks This Protocol is Monitored At
Vital Signs This Protocol Monitors
Fresh Water Communities
Focal Species (beaver)
Ground Water Dynamics
Invasive/Exotic Aquatic Biota
Surface Water Dynamics
Water Chemistry
Reports & Publications