Snow Chemistry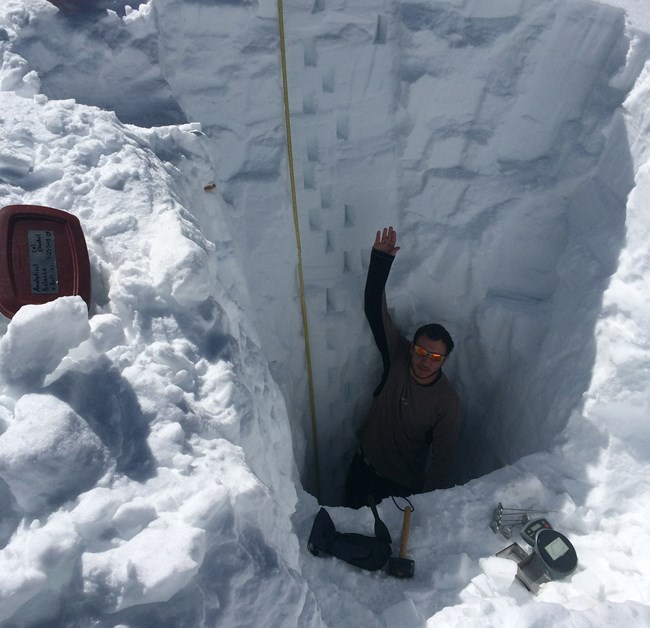 Importance/Issues
Snowfall accumulates from October until March, April, or May and provides about 50 to 70 percent of the annual precipitation in headwater basins of the Rocky Mountains. As these snowpacks accumulate during the winter and spring, chemicals deposited from the atmosphere are stored until snowmelt begins in spring. Because snowmelt supplies most of the freshwater in mountain lakes, streams, and wetlands, monitoring the water quality of snow is important to understanding the effects of atmospheric deposition to these systems.
Monitoring Objectives
Determine annual status and trend in snow chemistry in snowpack (major ions)
Analyze winter snowpack for water content ("Snow Water Equivalent" or SWE) and total chemical loading
Based on snowpack chemistry estimates, update network atmospheric deposition models
Measures
Snow Water Equivalent
Major ion concentrations in samples (emphasis on nitrate, sulfate, and ammonium)
Total loading of nutrients in snowpack
Protocol Status
In cooperation with George Ingersoll and others at USGS Water Resource Division Alpine Hydrology Group, the Rocky Mountain Network Snowpack Chemistry Monitoring Protocol was developed and published in 2009. For the Rocky Mountain Network, snow chemistry monitoring consists of working with the USGS Rocky Mountain Snow Chemistry Network to continue sampling in Great Sand Dunes National Park and Preserve, Rocky Mountain National Park, and Glacier National Park and to report, understand and interpret the results relative to Rocky Mountain Network parks.
Parks This Protocol is Monitored At
Vital Signs This Protocol Monitors
Weather and Climate
Wet and Dry Deposition
Reports & Publications
Data, reports, maps, photographs and more information about the Rocky Mountain Network Snowpack Chemistry Monitoring can be found at: http://co.water.usgs.gov/projects/RM_snowpack/
Last updated: August 28, 2019