Groundwater Dynamics Monitoring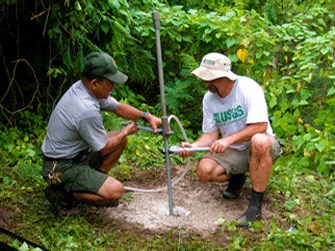 Description and Rationale
In many Pacific islands, groundwater is the primary source of water for ecologically significant and often rare habitats including wetlands, anchialine pool systems, springs and seeps, and for municipal and agricultural water supplies. Volcanic and carbonate rock aquifers in the Pacific are highly permeable and unconfined making them vulnerable to contamination. Accordingly, coastal areas affected by rising sea levels or lowered groundwater levels can see seawater intrusion into groundwater aquifers, which limits the use of groundwater.
Long-term groundwater monitoring data are necessary to predict responses of island aquifers and natural ecosystems to changes in sea level, climate change, groundwater withdrawals, and human land use.
Groundwater data can be used to understand water quality and quantity changes, to predict future conditions, and to detect groundwater-supply problems for people and ecosystems that depend on groundwater. This information is critical to park resource managers for protecting and managing wetlands and other groundwater-dependent resources.
Monitoring Objectives
The primary objective of groundwater monitoring is to collect data necessary to define seasonal and long-term changes in water levels, temperature, and the salinity of aquifers that underlie Pacific Island Network (PACN) parks. Salinity monitoring is a critical element as changes in salinity can signal potential impacts to water supplies and biota. Data will be collected from existing wells at selected sites in Kaloko-Honokōhau National Historical Park and American Memorial Park.
Last updated: April 20, 2018