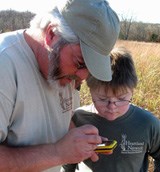 Mike DeBacker
Network Program Manager
Wilson's Creek NB, 417-732-6438
Mike joined the park service's I&M team in 1996 with the Prairie Cluster Prototype Monitoring Program. Over this time, Mike has served in several capacities including botanist, ecologist and most recently as network coordinator for the Heartland I&M Network. Mike's primary research interests lie in the prairies of the Great Plains. He is currently involved in several projects examining spatial structure in species distribution, and the influence of fire and grazing regimes on plant community composition. Mike earned a BA degree in Political Science from The Colorado College and a MS degree in Biology from Missouri State University.


Jordan Bell
Exotic Plant Management Team Crew Leader (WICR)
Wilson's Creek NB, 417-732-6438
Jordan serves as the Exotic Plant Management Team Crew Leader at Wilson's Creek National Battlefield. He is responsible for planning and project management for invasive plant control projects in 9 parks. In addition, he assists with long-term monitoring of these plant populations. Jordan began his work with the network in 2010 as a Student Conservation Association intern following graduation from College of the Ozarks with a B.S. in biology. Jordan has also completed a graduate certificate in restoration ecology through the University of Idaho.