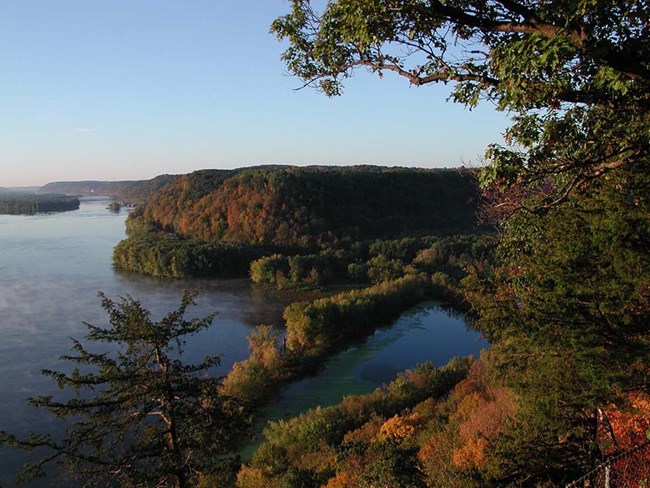 Located along the Mississippi River in northeastern Iowa, Effigy Mounds National Monument encompasses 2,526 acres with over 200 mounds of which 31 are effigies associated with the culture known today as the Effigy Moundbuilders. The construction of effigy mounds was a regional cultural phenomenon. Mounds of earth in the shapes of birds, bear, deer, bison, lynx, turtle, panther or water spirit are the most common images.
EFMO has an intricate system of rivers and streams and about 100 acres of ponds and lakes are found within the floodplains of the Mississippi River, the Yellow River, and Sny Magill Creek in the park. Dousman Creek, a perennial cold-water stream, is recognized as a high quality native trout stream. The Yellow River flows into the Mississippi at the park boundary. Water volume is high and flow is relatively slow.
The majority of the uplands and bluffs are forested. Three common mesic-forest communities dominate. They are (1) sugar maple-basswood (Tilia americana) forest on dry-mesic to mesic slopes and ravines, (2) oak-hickory on dry-mesic sites, and (3) chinquapin oak (Quercus muehlenbergii) woodlands mixed with goat prairies on bluff tops and south-facing slopes.