Cave Meteorology Monitoring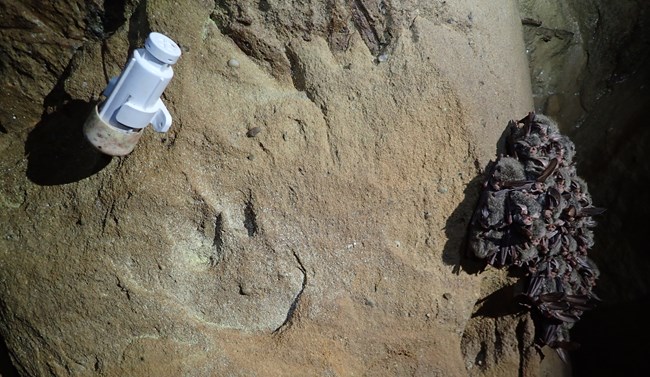 Key cave resources are affected by air temperature, relative humidity, and airflow. Air temperature, relative humidity and airflow are all easily affected by human structures in caves. Walls or doors covering the cave entrance will reduce air exchange between cave passages (or the surface) and therefore affect air temperature, relative humidity, airflow, and trace gases. For example, some bats need a narrow temperature and relative humidity range for hibernation to maintain a reduced metabolism. Cold winter air coming in from the surface can reduce temperatures in some sections of a cave, making the cave more suitable for bat hibernation. Cultural artifacts found in caves can also be affected by changes in atmospheric parameters such as when increased condensation encourages the growth of destructive fungi on wooden artifacts. Also, air flowing from the surface into the cave is relatively free of radon and carbon dioxide, which dilutes the concentration of those gases in the cave environment. For reasons such as these, cave meteorology is monitored at select Cumberland Piedmont Network parks.

Cave meteorology data are collected primarily to:
Measure air temperature and relative humidity in spaces occupied by bats, cave crickets or other biota.

Suggest management actions that can be taken to optimize atmospheric conditions where those biota (and other cave resources) exist.

For more information contact Johnathan Jernigan, Physical Scientist with the Cumberland Piedmont Network, at (270) 758-2146 or via email.
Last updated: July 9, 2018