Cave Aquatic Biota Monitoring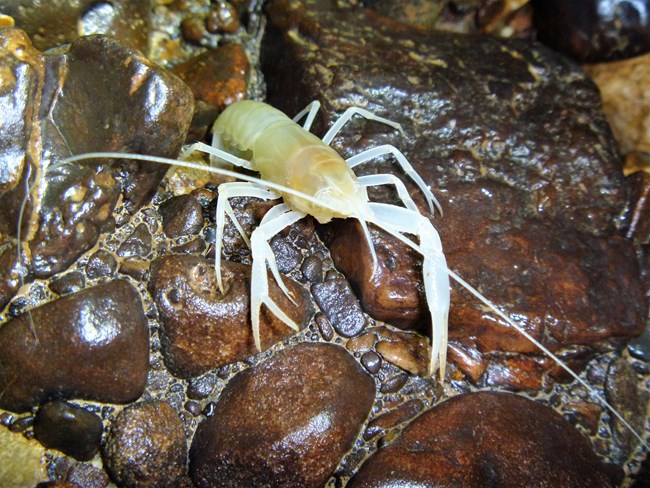 Cave aquatic biota constitute a significant, diverse biological component of cave stream ecosystems. They include several endemic species of interest and are considered high priority for monitoring.

Cave aquatic communities can be affected by contamination from a variety of sources. Watersheds in the network's cave parks can be polluted by animal waste or urban runoff and development, as well as oil and gas exploration. These factors, along with increased extreme climate or weather events, will reduce diversity in these cave aquatic ecosystems. For these reasons, cave aquatic biota were selected for monitoring at Cumberland Gap National Historic Park, Mammoth Cave National Park, and Russell Cave National Monument, because subsurface waters in these parks support unique communities of aquatic organisms, including the federally listed endangered Kentucky cave shrimp (Palaemonias ganteri).

Long-term monitoring objectives include identifying changes in the estimated populations of target cave aquatic biota, determining where these changes occur, and providing data to meet legal mandates related to natural resource protection. Monitoring cave stream communities over the long term will enable us to determine how cave stream communities respond to subsurface water quality, water quantity, park management activities, climate events, and other related stressors.

For more information contact Kurt Helf, Ecologist with the Cumberland Piedmont Network, at (270) 758-2163 or via email.
Last updated: April 17, 2018