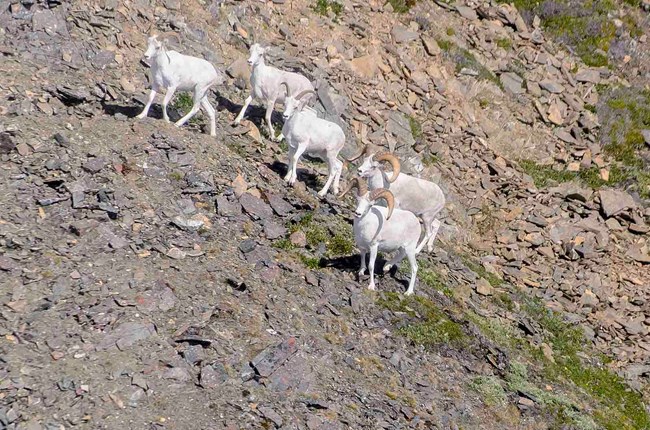 When it comes to monitoring animal species in the Central Alaska Network, we chose species that are spread across the trophic levels of park ecosystems. By doing this, we will have a better chance of observing change wherever it may come. We can try to forecast what kinds of change may occur, but it's harder to predict precisely where it will happen, or what form it may take.
Dall's sheep are a resident of alpine areas, a potential indicator of environmental change, and one of the six keystone large mammal species (moose, caribou, sheep, black bear, brown bear, wolf) of interior Alaska. Dall's sheep can be legally hunted by subsistence users on park and preserve lands in the Central Alaska Network and can be hunted on preserve lands by sport hunters. Evidence also suggests that environmental conditions such as severe winter weather can dramatically affect Dall's sheep numbers. Approximately 20% of the world's Dall's sheep population occurs in the Central Alaska Network parklands.
We monitor Dall's sheep in Denali and Wrangell-St Elias national parks and preserves to better understand:
Trends in abundance, distribution, and sex and age composition of Dall's sheep


Trends in the number and composition of harvested sheep from park lands


Dall's sheep productivity (lamb survival and recruitment)


See our Dall's sheep reports and publications.
Contact: Kumi Rattenbury