Terrestrial Landscape Patterns and Dynamics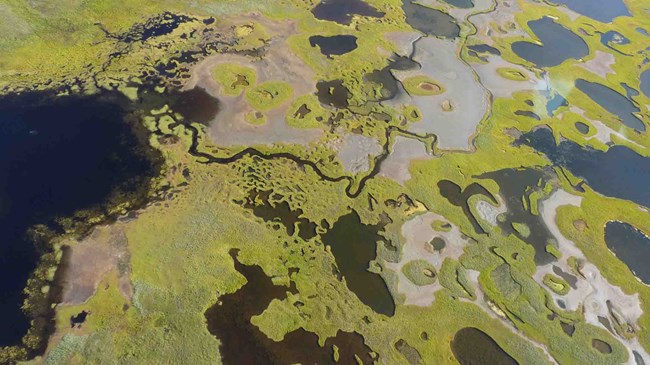 Landscape dynamics are the "big picture" of changes in the growing season, vegetation, and surface water. The length and warmth of the growing season control the amount of plant matter, which is the energy supply for all other biological processes and crucial for wildlife. Major changes in vegetation are likely to benefit some species and harm others. A long-term increase in shrubs in the Arctic has already been observed. Formation and drainage of ponds and lakes, which are important habitat for many species, are natural processes that may be accelerating due to climate change.
We monitor landscape patterns and dynamics in all Arctic parklands to detect:
Long-term trends in the growing season as reflected in greenness of vegetation and the snow-free period.

Long-term trends in land cover types such as shrubs, trees, bare ground, and shallow water, including both the overall cover and spatial patterns such as locations where shrub- or tree-line is advancing.
Contact: David Swanson
As permafrost thaws, lakes fill with water. If the water levels get too high, erosion channels can form and drain the lakes. In recent years, large lakes in Bering Land Bridge National Preserve have drained. This is of particular concern because these large lakes are important habitat for Yellow-billed Loons.

Duration:

1 minute, 21 seconds
Last updated: August 23, 2020