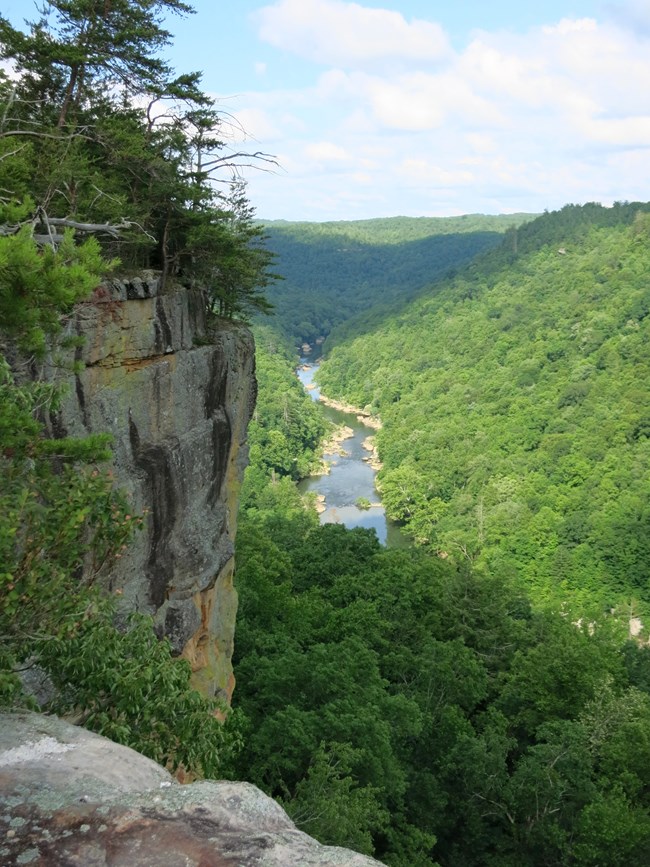 The Big South Fork National River and Recreation Area encompasses over 472 miles of streams, including all of the free-flowing Big South Fork River. The river is a globally significant hotspot of freshwater mussel diversity with 42 species present, including 11 that are federally endangered. Big South Fork NRRA is one of the 10 most diverse parks in the National Park Service system for freshwater fish, with 93 species within park boundaries, including two federally endangered or threatened. The threatened tuxedo darter (Ehteostoma lemniscatum) occurs nowhere else in the world. The park is also home to 1,100 species of vascular plants, including two federally-threatened species, as well as rare vegetation types such as cobble bars (river scour prairies).
Natural resource concerns at Big South Fork NRRA include water quality and quantity, critically imperiled aquatic species, rare riparian and clifftop communities, invasive exotic species, introduced forest pests and diseases, as well as intensive resource extraction. The Cumberland Plateau is rich in oil, gas and coal deposits, and the Big South Fork watershed has a long history of coal mining and oil and gas extraction.
The network monitors water quality and quantity, Cumberland rosemary, cobble bar communities, rare mussels, rare fish (tuxedo darter), and landscape change at Big South Fork NRRA.