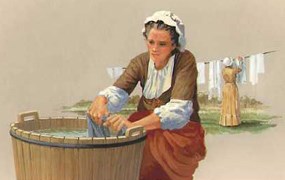 Although the operation of the furnace was largely men's work, the women of Hopewell Furnace performed many tasks essential to the community. These tasks included providing food and clothing. They also served as seasonal workers to bring in the farm crops and to supply the colliers with the wood needed to make charcoal. Many families depended on the extra money earned by women to survive economically.
Some Hopewell women earned money by using their homemaking skills to prepare and sell a variety of food goods such as butter, pickles, and bread. They also profited by selling eggs and chickens as well as making and selling candles and soap.
Single men were willing to pay eight cents for a home cooked meal. These men also paid women to wash and mend their clothes. Women skilled with a needle and possessing an eye for fashion found work as seamstresses for single men and for residents of the ironmaster's house. Homes with spinning wheels provided women with an opportunity to increase the family income through the sale of thread or yarn.
Outside their homes, women performed a variety of jobs in the furnace community. They served as maids and cooks at the ironmaster's house and as teachers at the community school. Hopewell employed several women as teachers including Susan Brown during the 1830s and Catherine Rhoads in 1871.
Women and children were hired to perform numerous seasonal duties on Hopewell's farm. These tasks included hoeing corn, binding grain, pulling flax, shearing sheep, and picking apples. Usually women were hired during the harvest, but a number of chores were available all year, including whitewashing fences and buildings and milking cows. The average pay they received was 25 cents per day, enough to buy one yard of cloth or 12 pounds of flour. Some women ran their own farms, usually after the death of their husbands, and sold such items as indian corn, feathers, and pigs to the furnace store.