The Miners of Hopewell Furnace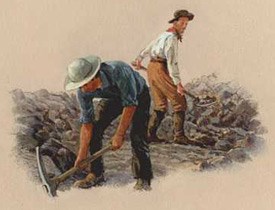 Miners were a group of skilled laborers who supplied Hopewell Furnace with the iron ore it needed to make its many products. They were mostly men and young boys. However, there are records that show that women may have worked at the mines as well. The miners played a key role making sure that the furnace was supplied with enough ore on a daily basis.
There was little time in a miner's life for ease and relaxation. They began their day early and usually did not quit until late in the day. So long as the furnace was in blast, the miners had to work to supply it with the iron ore it needed to stay in production. It was hard, dirty work that was also sometimes dangerous. As mining technology improved throughout the 19th century, the miners life got a little easier. For example, with the introduction of the steam engine into mining, the miner no longer had to manually haul the ore to the surface for removal.
Miner's used a variety of tools when they were working at the mines. Each tool had a specific use and purpose. The blacksmith at Hopewell crafted and repaired the tools which were supplied by the furnace at very little or no cost to the miner. Tools included pick, shovel, mallet, wedge, sledge, hand drill and tamping bar. The pick was used to chip away at rock and ore. The mallet and sledge were used for driving the wedge and hand drill into the earth. Baskets were used to haul the iron ore out of the mine. Wheelbarrows and rakes were also included in the array of tools. These were made of wood and iron and were of heavy duty construction.
Miners were paid by the amount of iron ore they extracted from the earth. Typical earnings during the blast years of 1825 - 27 ranged from $11.33 - $ 21.00 per month. This amount was very competitive compared to that of other furnace tradesmen such as a blacksmith or teamster.
The miners lived near the mines, usually renting rooms or houses that were in short walking distance to their work. A miner's family would live with him. Their children were educated at nearby schools, some located at the mine site, such as those at the Warwick Mine and Jones Good Luck Mine.
Last updated: February 26, 2015