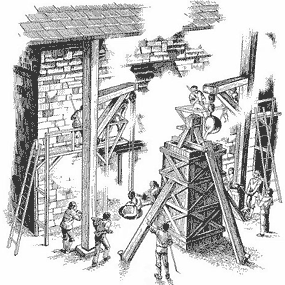 In 1771 Hopewell Furnace went into blast for the first time. By that same year America was well on the way to revolution. America's iron industry was then producing some 15% of the world's supply of iron, more than was being smelted in Great Britain. Among the leaders of the revolutionary movements, which would result in independence, were her ironmasters, including Mark Bird. By 1775 he had served on numerous committees and other bodies preparing for war with England. His role was enhanced through such in-laws as James Wilson, George Ross (ironmaster of the Mary Ann Furnace) and George Read, all future signers of the Declaration of Independence.
Once fighting began, Mark Bird served as both Militia Colonel and as a Deputy Quartermaster General. As the latter, he helped obtain badly needed supplies for George Washington's forces both before and during their stay at Valley Forge. However, his most important contribution to the war effort was as owner and ironmaster of Hopewell Furnace.
From 1775 to early 1778 (when France entered the war against Great Britain) the Americans had to look primarily to furnaces like Hopewell for iron cannon, shot and shell. Yet none of these sites had ever before cast ordnance. In spite of the difficulties of "learning by doing," the iron industry met the challenge. Hopewell alone produced 115 cannon for the Continental Navy, some of which were used aboard the frigate Randolph and gunboat Delaware. Even more importantly, Hopewell provided shot and shell to the Continental Army and Navy throughout the war, including 10-inch mortar shells used to help win the final major battle at Yorktown, Virginia.