Cast Iron Stove Production
Cast Iron Stove Production at Hopewell Furnace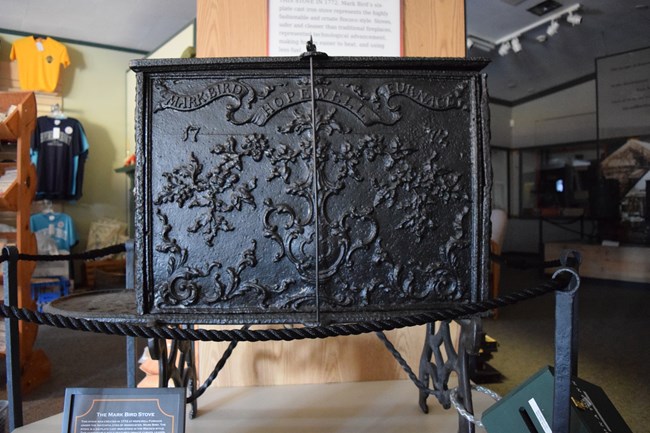 The earliest known casting produced at Hopewell Furnace is said to be the Mark Bird Stove, currently on display in our Visitor Center. It is a 6-plate stove in the rococo style and is one of the finest examples of rococo art from the period. Inscribed with names and dates such as "Mark Bird", "Hopewell Furnace" and "1772", the markings commemorate Bird's ownership of the furnace.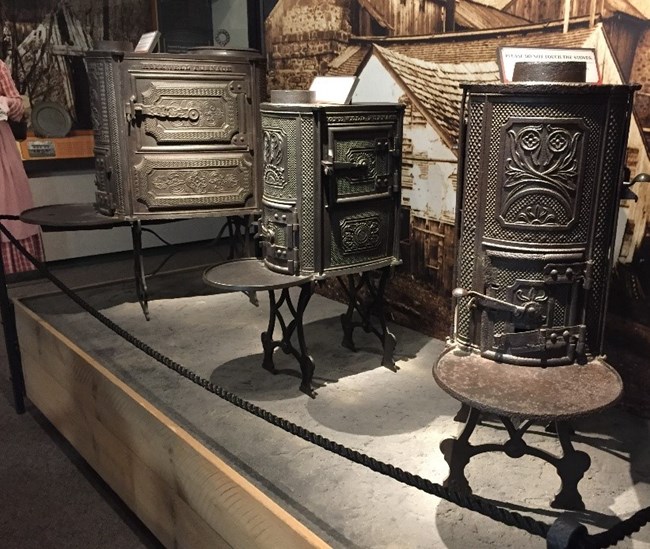 10-Plate cast iron stoves were a technological improvement compared to the 6-plate stoves. These stoves had grates and could burn anthracite coal as well as wood. In most cases, stoves were made to order items and moulders rarely made fully assembled stoves. Instead, they cast separate parts and stove dealers supplied the connecting rods, bolts, and sheet iron parts. The design of these stoves was influenced by the dealer. Many stoves were cast with Hopewell Furnace side plates and others featured the name of the stove dealer.
Flask-casting replaced the 18th century method of open-sand casting. In open sand casting, a wooden pattern was pressed into the sand in front of the furnace. Molton iron was run into this bed to cool, and then the plate was trimmed and brushed clean. Flask-casting used a box filled with damp sand to form a mould around a pattern. When the iron hardened, the box was opened, and the plate was removed and cleaned.

From 1825 to 1844, Hopewell Furnace's most lucrative product was stove plates. In the 18th century, 10-plate stoves gained popularity with innovations in stove technology and flask casting. At the same time, improvements in transportation allowed the furnace company to ship products to market via turnpikes, canals and railroads. New patterns were routinely introduced, and Hopewell molded numerous designs to stay desirable to customers in Albany, NY, Baltimore, MD, Portsmouth, NH, Philadelphia and Harrisburg, PA.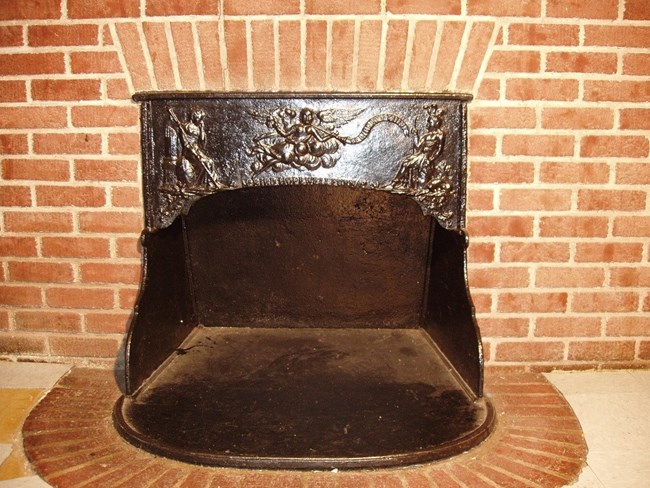 Stove plates came in many shapes and sizes. At its peak, Hopewell Furnace produced more than one hundred different sizes and types, including oval, cannon, square and Franklin stoves. In fact, Hopewell produced at least four styles of Franklin stoves. Designed by Benjamin Franklin, the freestanding fireplace used a system of baffles to extract the maximum amount of heat. These innovations were intended to provide more heat and less smoke than other stoves at the time.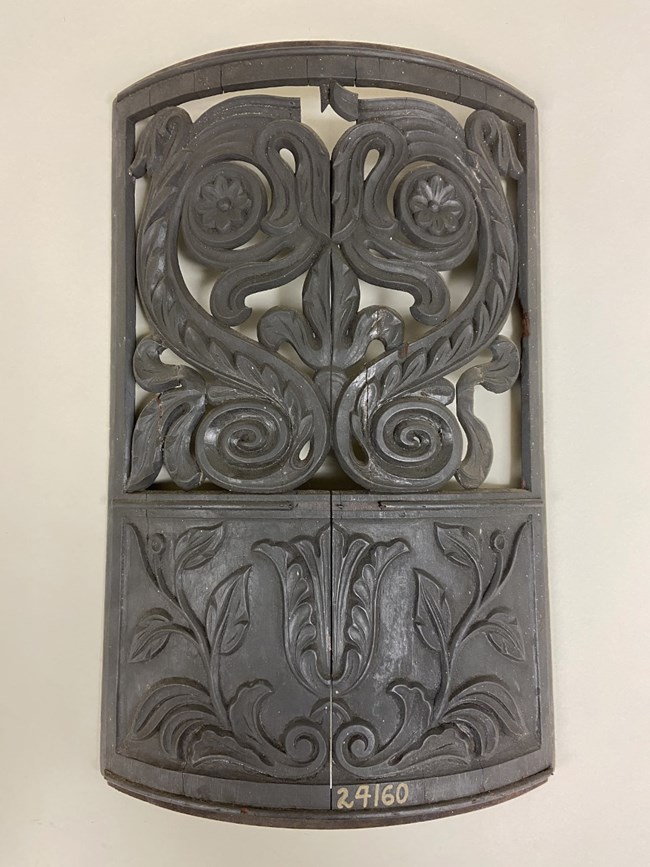 Casting iron products started with a wooden pattern. Patterns were expensive and sent to the furnace by individual vendors or pattern makers in Philadelphia. Products changed according to market demand. After the war of 1812, for example, varieties of patterns such as New Orleans Victory Stove, Perry Victory Stove, Don't Give Up the Ship Stove were popular.
The national financial crisis known as the Panic of 1837 had a devastating effect on Hopewell Furnace and its markets in eastern cities. Hopewell survived the financial crisis but experienced increasing costs and declining demand. The Ironmaster, Clement Brooke, ended large-scale castings and focused Hopewell on producing primarily pig iron bars. These bars could be worked into wrought iron at finery forges. Hopewell mainly produced pig iron until it permanently closed operations in 1883 due to its inability to compete with steel factories.
Last updated: December 3, 2020