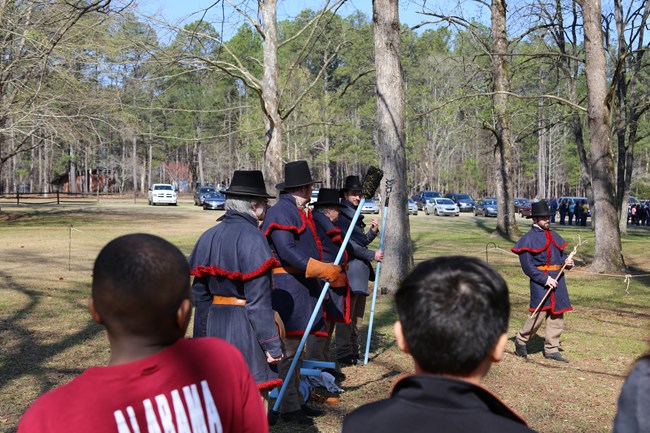 Horseshoe Bend National Military Park hosted its 3rd Annual education event in conjunction with the Anniversary of the Battle of Horseshoe Bend. This annual event provides an opportunity for area 4th graders to experience traditional Creek Indian life, frontier life in the year 1814 and emphasizes the importance of the battle in United States history. Demonstrations and interpretive programs were presented including American Indian hunting camps, frontier living, American militia drills and cannon firing.
The transportation cost for all of the students to attend was paid for through the Friends of Horseshoe Bend. This project was made possible by a grant from the National Park Foundation through generous support of donors from across the country. The National Park Foundation launched an Every Kid in a Park Program that provides funding for the nation's 4 th graders to have the opportunity to experience National Parks. Over 700 students from
Chambers
,
Clay
,
Coosa
,
Randolph
, and
Tallapoosa
Counties participated in this year's event.
The 2017 Education Days were made possible because of support from: National Park Foundation, the Friends of Horseshoe Bend, U.S. Army Warrant Officer Career College at Ft. Rucker, Alabama State Parks, Alabama Historical Commission, Alabama Department of Conservation and Natural Resources, and Horseshoe Bend NMP Volunteers- In-Parks (VIPs). The use of partners to provide high quality education programs and logistical support is vital to event success.