MOUNT RAINIER NATIONAL PARK
Yakima Park Stockade Group (circa 1935)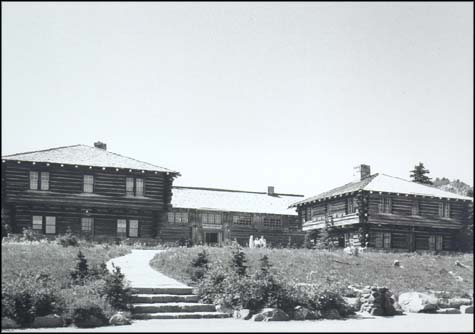 In the late 1920s plans for the last major development in Mount Rainier National Park were begun after state highway construction authorities promised an open approach from eastern Washington. Prepared by the National Park Service (NPS) Branch of Plans and Design in San Francisco under the supervision of Ernest A. Davidson, work began on the administrative-residential complex in the 1930s. At the height of Rustic design's popularity, Davidson turned to local sources of historic inspiration for the site and building design. Architect A. Paul Brown completed the building designs in February 1930. A frontier blockhouse-and-stockade theme was developed from resource material at the Historical Museum of Tacoma.
In the headquarters area, the plans called for a large Community Building (visitor center) flanked by two square blockhouses, with a vertical stockade fence enclosing a utility yard. Deemed a design success since its completion in the mid 1930s, the Yakima Park Stockade Group is an excellent example of NPS rustic design.33
---
Photograph by Laura Soulliere.

---