YOSEMITE NATIONAL PARK
Ahwahnee Hotel (1925-1927)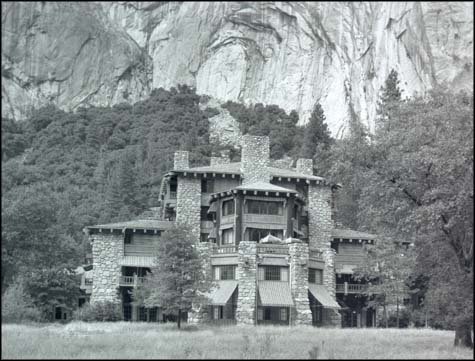 The site chosen for the Awhanee hotel is a deep, grassy meadow at the base of the Royal Arches. Located at the east end of the valley, it is surrounded by a forest of black oak and Douglas fir, which provides seclusion from nearby developments.
Knowing that his building could not compete with the spectacular setting, architect Gilbert Stanley Underwood devised an asymmetrical plan with three wings, each three stories high, radiating out from a six-story central tower. The plan afforded good views of the dramatic scenery from every window. The y-shaped ground floor plan pivots around the elevator lobby.
Emphasized by green slate hip roofs and bands of windows, the horizontal sweep of the balconies and terraces at Ahwanhee provides visual interest on the exterior and varied spatial experiences on the interior. Massive granite boulder piers and chimneys match the cliff walls and soar vertically throughout the complex. Broadened at their bases, the piers cast the first-floor window openings into deep shadow.21
---
Photograph by Laura Soulliere.

---