YELLOWSTONE NATIONAL PARK
Old Faithful Inn (1903)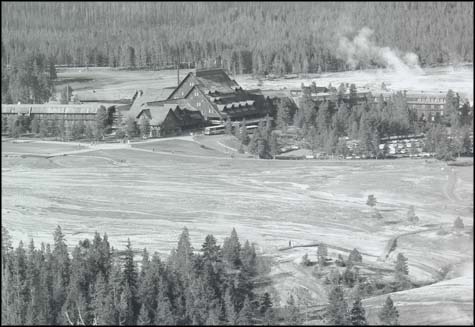 The Old Faithful Inn, with its imposing scale, informal massing and great, pitched roof, architecturally echoes the shapes of the surrounding mountains. A semicircular grandstand faces the most famous geyser in the United States, and receives a rush of spectators who descend upon the site hourly during the summer season.
Twenty-nine year old architect Robert Reamer was hired by the Yellowstone Park Association in 1902 to design a lodge for the Old Faithful area. The siting of the inn was ingenious, skewed in relationship to the entry drive to allow an unobstructed view of Old Faithful for the approaching visitor.
The building was constructed in three major phases: the 1903 original section with the prominent gable roof, dining rooms, and kitchen wing to the south, and guest-room wings to the east and west; the 1913-1914 east wing; and the 1927 west wing.
The foundation of the 1903 portion is stone and concrete with a stone veneer. The first-floor structure contains load bearing log walls and log framing. Upper stories are of milled lumber and log framing; exteriors are sheathed in yard-long redwood shingles with the two lower courses sawn into diamond patterns.28
---
Photograph by Jet T. Lowe, 1989, National Park Service, Historic American Buildings Survey. [Library of Congress reproduction number: HABS, WYO,20-YELNAP,1- (HABS WY-87-15)]

---