YELLOWSTONE NATIONAL PARK
Madison Trailside Museum (1929)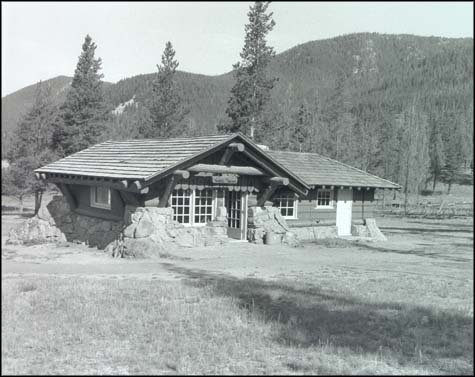 This one-story structure is the smallest of Herbert Maier's four Yellowstone museum designs. Today only three remain. Maier had a huge influence on the National Park Service rustic park architecture of the period.
The Bungalow-style museum is devoted to the history of Yellowstone Park. Set in a meadow at the point where the Firehole and Gibbons Rivers join to form Madison River, the site is important because it was here that the Washburn-Longford-Doane exploration party discussed Yellowstone's future. The gable roof covers the exhibition room in the main wing, and intersecting hip roof covers the two-room Ranger-Naturalist quarters. A bungalow detail used in the gable ends is vertical siding with tree profiles and diamond patterns sawn into the boards.12
---
Photograph by Laura Soulliere.

---