Hosmer Grove Campground
Access to Haleakalā National Park campgrounds was temporarily closed beginning in March 2020 for safety reasons due to the COVID-19 Pandemic. To better manage the campgrounds within Haleakalā National Park during the COVID-19 Pandemic, beginning June 1st, 2021 visitors will need to reserve campsites in advance at Hosmer Grove campground through Recreation.gov.
Reservations are currently required for Hosmer Grove campground through www.recreation.gov (Starting December 2022, reservations will be available on a 30-day rolling basis for booking into 2023.)
Campsites cost $5 per night with a three-night consecutive night stay maximum. All overnight camping is limited to three nights per 30-day period across all park sites.
Each campsite allows a maximum of six people and two tents.
Pets are not permitted in or around campsite facilities.
A printed reservation from the confirmation email must be held by the reservation holder.
All vehicles must park in a designated parking space within the paved lot.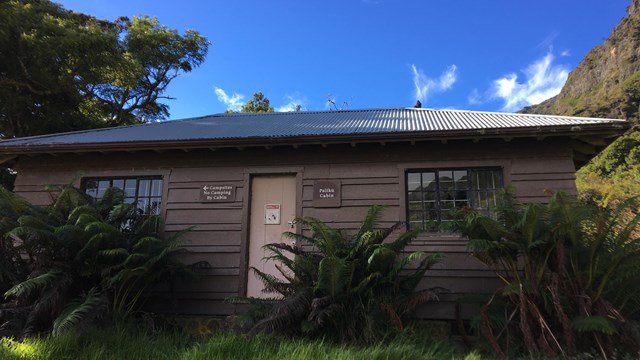 Wilderness Cabins
Historic cabins available for reservations.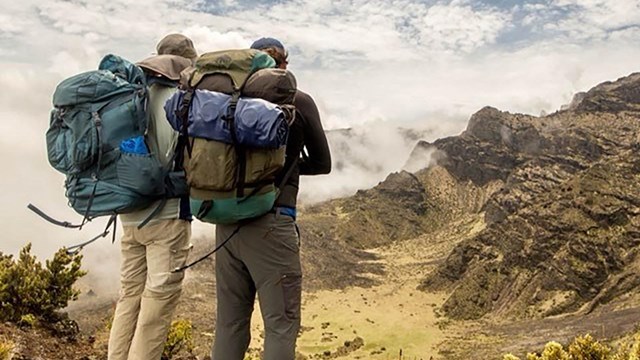 Wilderness Camping
Primitive wilderness campsites accessible only by trail.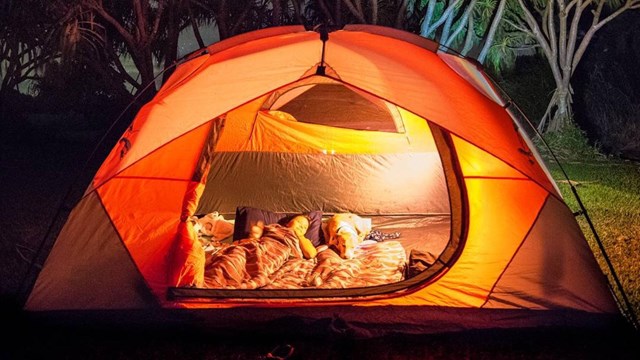 Kīpahulu Campground
Learn how to reserve a site in the Kīpahulu Campground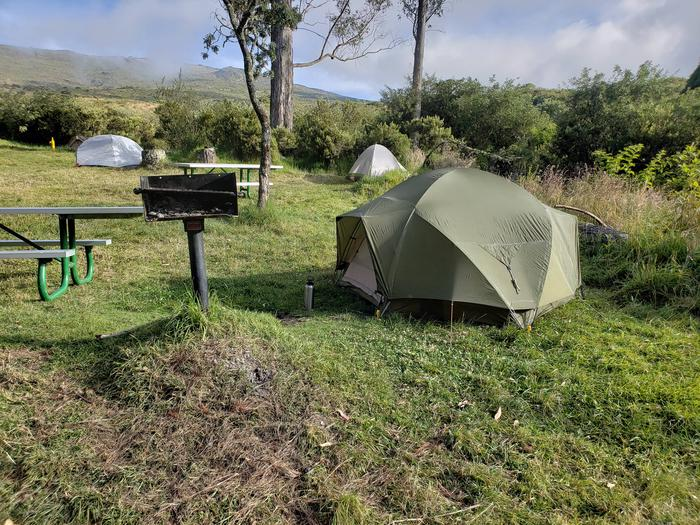 Campground Facilities
Hosmer Grove lies in the cloud belt of Haleakalā, at nearly 7,000 feet (2134m) in elevation in the Summit District. Come prepared for rain and cold weather! The forest comes to life in the early dawn with the many native birds in the area, making this a beautiful early morning hike.
Six designated sites are located in an open, grassy area near the forest and shrubland of Hosmer Grove. Each site has a picnic table, grill, and access to potable water. The campground has pit toilets located in the parking lot. All vehicles must park in a designated parking space within the paved lot. A self-guided nature trail begins and ends at the campground.
Campers who obtain a reservation to camp at Hosmer Grove campground also receive a reservation to view sunrise the morning after camping. Those without a campsite reservation for Hosmer Grove who wish to view sunrise will need to obtain a reservation through recreation.gov.
To learn more and reserve a site at the Hosmer Grove campground explore the information below or visit the rec.gov page directly at Hosmer Grove Campground, Haleakala National Park - Recreation.gov
Cell Phone Additional Information
Internet Additional Information
Accessibility Information


Last updated: April 16, 2023