Gifts of the Geminids Podcast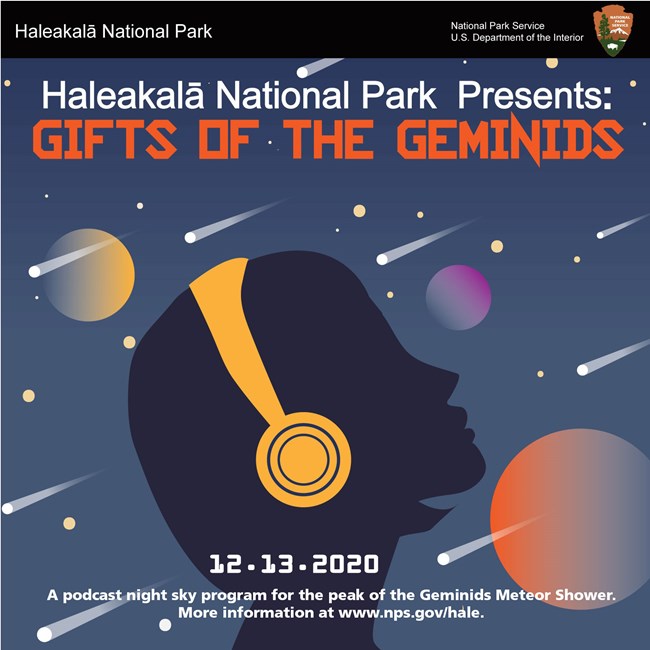 Take in the Geminids meteor shower Sunday, December 13

What are meteor showers? How do they happen, and what do they mean for us?


Join Ranger Laurel at Haleakalā National Park for a virtual night sky program in the form of a podcast to dive into the science and significance of the Geminids. Learn about the origins of these cosmic spectacles, and gain a better appreciation for what these events can mean for us.


Stream the podcast while you observe the shower, or download it ahead of time before you head out.







Tips for watching the meteor shower
Because the new moon coincides with the peak of the meteor shower, conditions are already great for seeing shooting stars. However, there are a few things you can do for a more enjoyable experience:
Check the weather—Cloudy skies will obscure your views. Keep an eye on the forecast, and consider if there are other locations nearby predicting clearer skies if your first option is overcast.
Stay warm—Even in Hawaiʻi, nighttime temperatures can be chilly. Wear plenty of layers and bring all accessories appropriate for your climate. Sitting or laying on the ground can also sap your heat, so consider bringing something insulating like a sleeping blanket or mat to sit on.
Be patient—The Geminids are one of the best meteor showers of the year, but like every natural phenomenon, can be unpredictable. Wait until darkness has truly fallen for your area before braving the cold, and be prepared.
Consider your local light pollution—Meteors are bright, but the darker the sky the brighter they are. Take a peak at your outdoor spaces before the night of the shower to gauge how dark your area really is. Consider finding a local park to get away from excessive light pollution.
Recreate responsibly—Avoid crowding and have a face covering with you if you plan to watch the shower from a public place. Research your local and state guidelines to help plan a safe and responsible night sky experience.
Submitting your Geminds letter to the park?
To submit your "future self" Geminids 2021 letter for safekeeping until next year, you can mail it to Haleakalā National Park. Letters will be stored, unopened, until December 2021. Letters will be mailed back to the sender using the return address listed on the original envelope on December 1, 2021.

Mail your letter to:

Haleakalā National Park
Attn: Gifts of the Geminids
PO Box 369
Makawao, HI 96769

Wondering what this letter writing thing is all about? Tune into Gifts of the Geminids podcast to learn more!
Last updated: November 30, 2020