Geminids, 2.0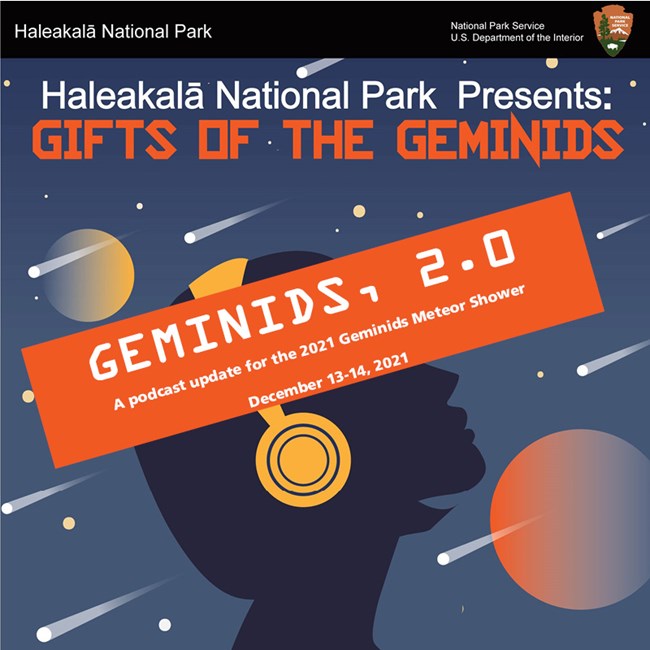 Watching the Geminids meteor shower this year?

If you're new to the Stars Above Haleakalā podcast, tune in to last year's Geminids episode to learn about the why and how of meteor showers!

Gain a fresh perspective on the meteor showers and our planet in the podcast update, Geminids, 2.0

Stream both podcasts while you stargaze, or download them ahead of time before you head out.
Tips for watching the meteor shower
While the moon may add a little extra light to the sky, you can still have a great stargazing night with the following tips:
Check the weather—Cloudy skies will obscure your views. Keep an eye on the forecast, and consider if there are other locations nearby predicting clearer skies if your first option is overcast.
Stay warm—Even in Hawaiʻi, nighttime temperatures can be chilly. Wear plenty of layers and bring all accessories appropriate for your climate. Sitting or laying on the ground can also sap your heat, so consider bringing something insulating like a sleeping blanket or mat to sit on.
Be patient—The Geminids are one of the best meteor showers of the year, but like every natural phenomenon, are also unpredictable. Wait until darkness has truly fallen for your area before braving the cold, and be prepared.
Consider your local light pollution—Meteors are bright, but the darker the sky the brighter they are. Take a peak at your outdoor spaces before the night of the shower to gauge how dark your area really is. Consider finding a local park to get away from excessive light pollution.
Recreate responsibly—Avoid crowding and have a face covering with you if you plan to watch the shower from a public place. Research your local and state guidelines to help plan a safe and responsible night sky experience.
Last updated: December 13, 2021