Kīpahulu Biological Reserve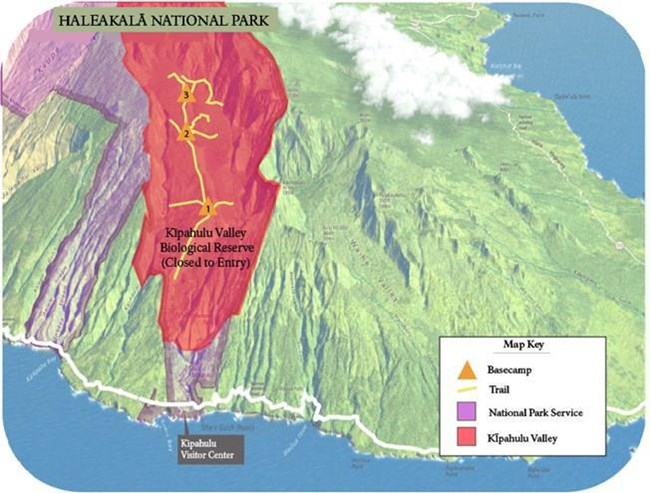 Richly biodiverse, the wet rainforests and bogs of upper Kīpahulu Valley are a key refuge for many species of native Hawaiian plants and animals disappearing elsewhere. No trails or roads are planned there in order to deter devastating non-native species from penetrating the Valley. Entry is allowed only to resource managers and scientists conducting research and management essential to understanding and protecting this rare relictual ecosystem.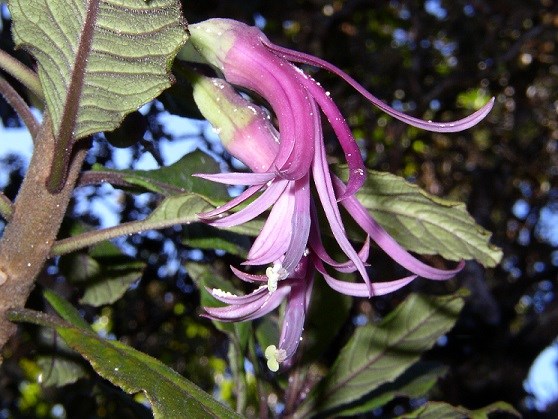 Kīpahulu Biological Reserve Background
The upper Kīpahulu Valley shelters many rare native Hawaiian species. In 1967, the first ever Kīpahulu Valley expedition to this remote valley was conducted by The Nature Conservancy. The expedition explored the ecological treasures of the Kīpahulu Valley and helped bring about its protection as a biological reserve. The only people allowed into the reserve today are scientists and managers authorized to conduct research and conservations projects. The absence of trails and development in the valley is intended to conserve what is left of its pristine character.

The goal of the Kīpahulu Expedition was to gather basic information about the plants and animals in the valley, and to make recommendations about the valleyʻs long-term conservation. This expedition is still seen as a major contributor to our understanding of Hawaiian ecosystems.

With donations from hundreds of individuals in 1969, The Nature Conservancy purchased closed to 10,000 acres in the upper Kīpahulu Valley. Laurance Rockefeller, whose original 58-acre Land donation included part of the famous lower ʻOheʻo Pools, was key to this effort. Charles Lindbergh, the famous aviator who deeply loved Kīpahulu, assisted with the fundraising effort. Many local residents donated or sold their land to The Nature Conservancy. They then transferred the land to Haleakalā National Park. Now 55 years later, something that The Nature Conservancy, Rockefeller, Lindbergh, and the National Park Service could have predicted as a looming threat in 1967 is threatening the biological reserve; climate change. There are many facets to the effects climate change is having on the Kīpahulu Biological Reserve.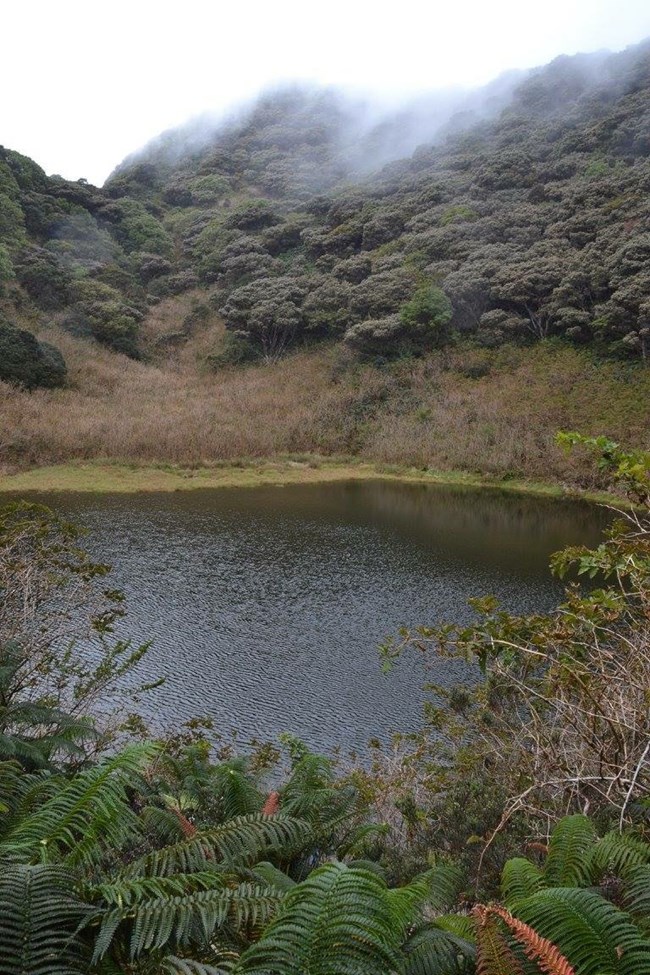 Climate Change
The plant sanctuary that is the Kīpahulu Biological Reserve is being disrupted by warming temperatures. This is happening because of the way that warming is impacting the inversion layer, the layer in the atmosphere that controls the usual elevation of clouds. As temperatures warm, the inversion layer is rising up the slopes of Haleakalā and diminishing rainfall in the Kīpahulu Valley which sits between sea level and 3,000 ft elevation. The 1967 expedition found that 90% of the plants found in the valley are endemic to Maui. That percentage is likely to fall or have fallen in recent decades. Changing rainfall and temperatures are inviting invasive species to impact the lower ʻOheʻo Gulch area of the valley, and are continuing their march uphill towards the reserve. Aggressive action by park managers of planting native species and removing invasives is attempting to thwart this change.

Endemic birds in Haleakalā National Park are also seeing great challenges due to climate change. This is occurring mostly because of avian malaria carried by mosquitoes. The mosquito larva cannot hatch successfully in colder climates. This usually blocked their approach to higher elevations of Haleakalā, however warmer temperatures are allowing them to advance into the native habitat of endemic forests birds such as the critically endangered ʻākohekohe (crested honeycreeper), endangered Maui ʻalauahio (Maui creeper), critically endangered kiwikui (Maui parrotbill), and the critically endangered Maui nukupuʻu whose last sighting was in 1989. Avian malaria is a disease that is deadly to these birds. Rising temperatures are also pushing these birds higher into the mountains and eventually they could reach a dead end when they run out of mountain to climb.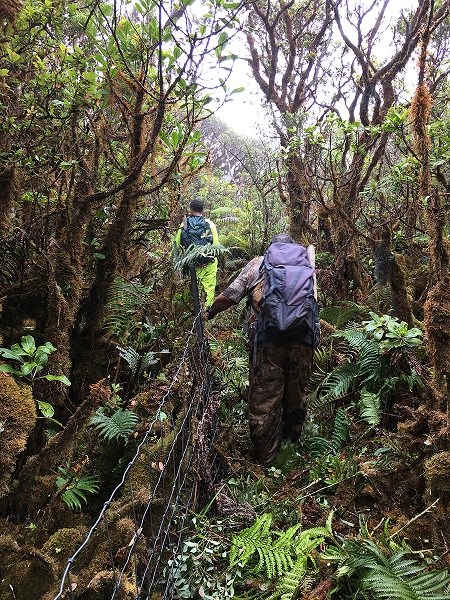 Today park managers, researchers and field workers maintain this valley as both a biological reserve that promotes the health and wellness of biological diversity, as well as a sacred place that connects the mauka to makai (mountain to ocean). There is a combined effort to preserve through the use of fences to keep out invasive ungulate species, and the restoration of habitat with invasive plant removal and replanting of native vegetation.
What Can You Do?
In order to protect this pristine environment, there are several ways that the public can assist park resource managers.
1. Respect park boundaries and policies by staying out of the biological reserve.
2. Appreciate native Hawaiian species and understand their threatened condition.
3. Understand how climate change is impacting Haleakalā and public lands nationwide.
4. Explore ways to change your impact on the climate.


Last updated: June 14, 2023