Sculptures I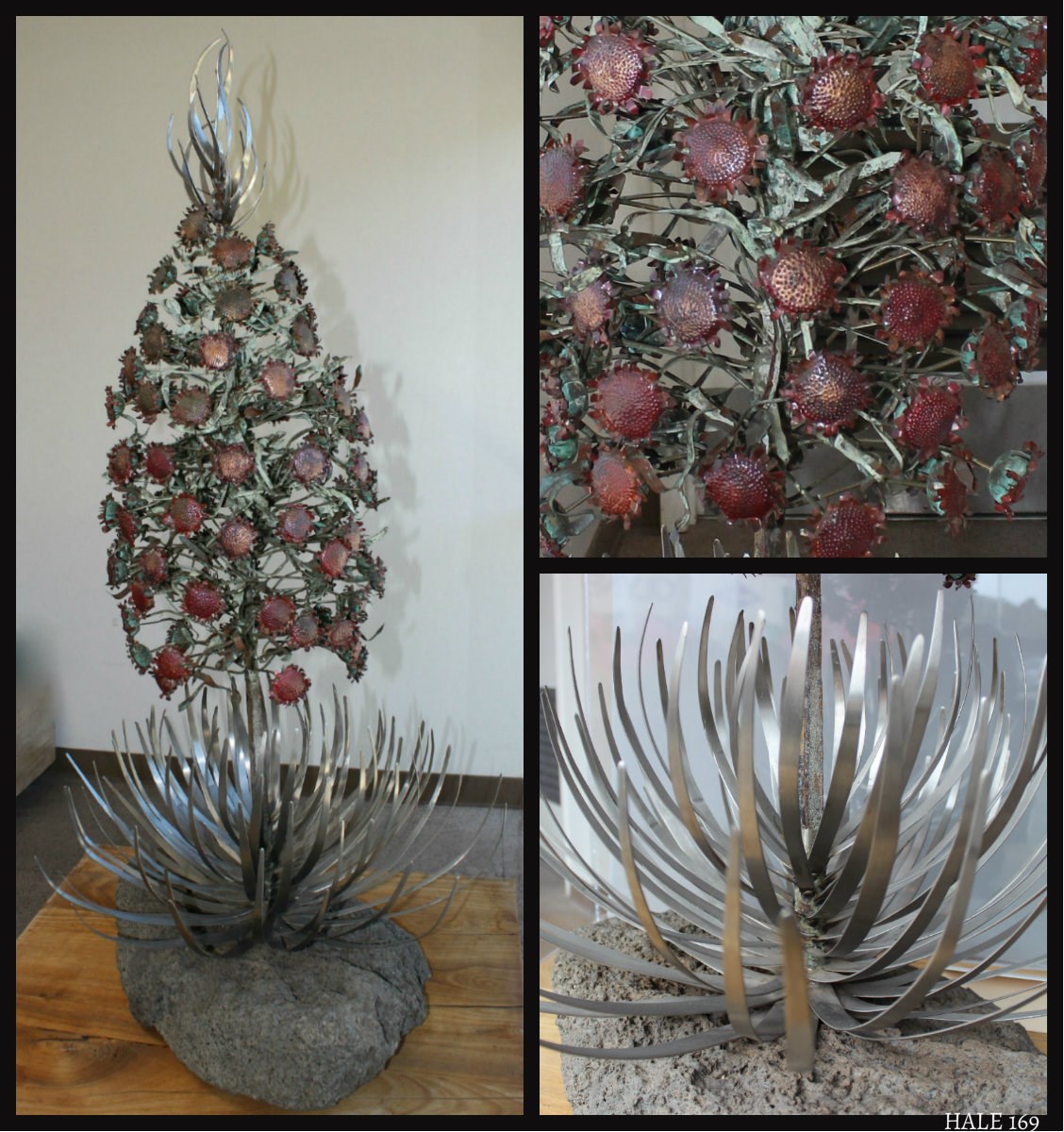 The Silversword
Gwendolyn Brush
1975
This sculpture is a representation of the Silversword plant, or 'āhinahina, which is an endangered species that is found on the cinder slopes of Haleakalā Crater. It is depicted in full bloom. The silversword sculpture consists of 100 Monel stainless steel swords, a hand-forged steel stalk coated with bronze as well as hand-etched leaves and stems made of copper. There are 150 hand-carved flowers made of copper stock that was colored in various hues by controlling the oxidation of the copper. The hand-welded sculpture is mounted on a rock taken from the cinder pits in Kula. It took six months to complete.
The Silversword
is currently on display at the Headquarters Visitor Center.
The artist believes that the silversword plant "adorns Haleakalā like a piece of jewelry adorns a beautiful woman." For this reason, she wanted to create a work of art that would "help the rest of the world become aware of and be sensitive to the beauty of the silversword and Haleakalā."
Ms. Gwendolyn V. Brush, sculptor and painter, specialized in metal sculptures and oil paintings. She completed her training in welding through the Mendocino County Regional Welding Program at Ukiah, California. In 1972, she moved to Maui and continued her training in welding at Maui Community College. She was a member of the Lahaina Art Society and exhibited her artworks at several local businesses including the Black Coral Shop in Lahaina and at the 1974 Kula Lodge Art Show. Gwendolyn also collaboratively worked with other artists on the stainless steel sculpture, Dolphin, which is on display at the University of Hawaiʻi, Maui College campus.
Steel, bronze, copper. H 129.5, W 45.7 cm; Base L 68.6, W 43.2 cm
HALE 169
Last updated: August 11, 2015