Paintings I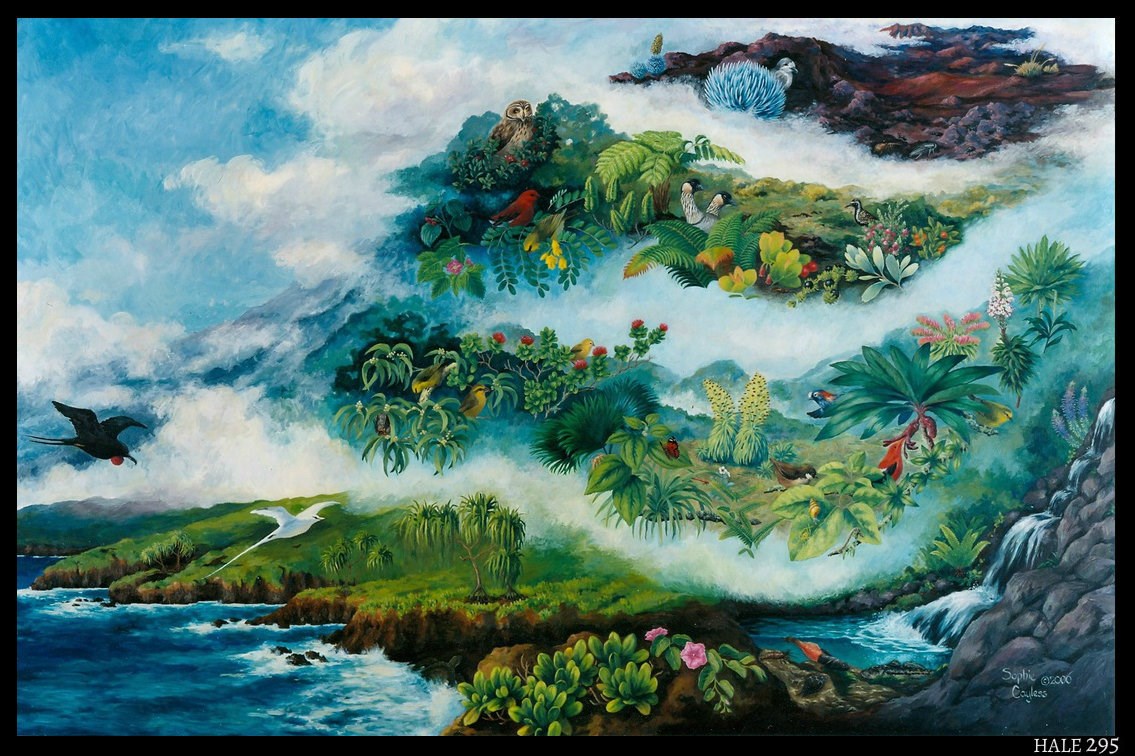 Haleakalā Life Zones and Native Species
Sophie Cayless
1999-2000
This mural depicts the endemic animals and plants of Haleakalā National Park as well as other Hawaiian species which occur on Maui. The different landscapes found in the park serve as the backdrop for the species. The attached key identifies the various plant and animal species in the mural (Click here for key). A reproduction of the painting is on display at the Headquarters Visitor Center.
According to the artist,
________"In my artwork, I try to convey the sense of wonder I feel as I contemplate the natural world. I painted this piece for love of Haleakalā, my mountain home for a winter and spring. Its quiet grandeur shelters unique plant and wildlife, life all the more precious for its gentle and fragile beauty."
Ms. Sophie Cayless worked as a Park Ranger and Naturalist in various National Park areas. She was a Student Conservation Association, SCA, intern at Haleakalā National Park. She has created illustrations for many park exhibits and publications.
Sophie Cayless specializes in nature art and enjoys acrylic painting, colored pencil and scratchboard. She graduated with a Bachelor of Arts in Illustration from the Cleveland Institute of Art and Case Western Reserve. She wrote and illustrated the children's book Beaver Tales (2001) for the Cuyahoga Valley National Park, and illustrated Sophie's Stuff (2012) and Belle's Wild Ride (2015) for the Cleveland Museum of Art. She also teaches drawing and painting to children and adults and serves as the Illustrator Coordinator in the Society for Children's Book Writers and Illustrator's local chapter.
Acrylic, wood. L 183, H 122 cm.
HALE 295
Last updated: August 11, 2015