Paintings X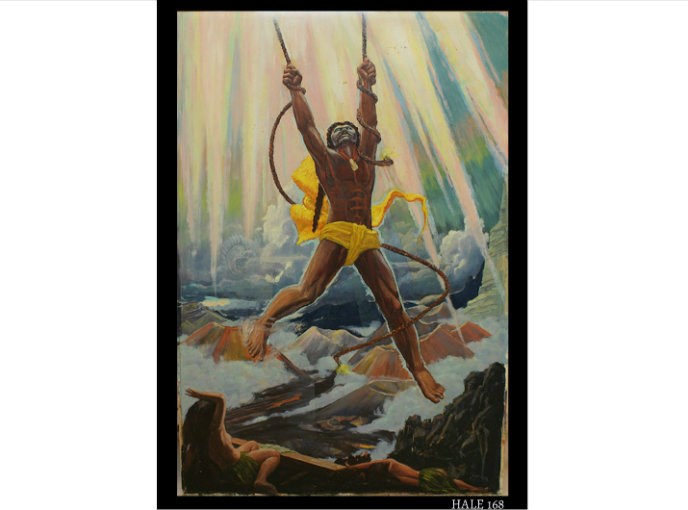 The Demigod Maui Snaring the Rays of the Sun
Paul Rockwood (1895-1972)
1951
This oil painting was inspired by the legend of Maui. It depicts the demigod Maui at the summit of Haleakalā snaring the rays of the sun for his mother, Hina.
Paul Clark Rockwood was a graphic artist, printmaker and lithographer. He created works of art through the Works Progress Administration (WPA) in the 1930s and became the head of the art department of the Western Museum Laboratories (WMA), formerly the National Park Service Field Division of Education. As an artist of WMA, he prepared illustrations, maps, models, dioramas, other graphic devices and lettering for museum exhibits as well as drafted layouts for exhibit plans, designed posters and worked on various museum construction projects.
In 1950, he worked as a temporary Museum Construction Specialist on the Museum Development Program at Hawaii National Park. While working at the park, he painted Pele Over Kīlauea, an image of Halema'uma'u Crater for the Kīlauea Section, and Haleakalā Crater and Maui for the Haleakalā Section. His work for the National Park Service also includes paintings of Mount Mazama at the Crater Lake National Park Museum, as well as drawings of early transportation on the western rivers at the Jefferson National Expansion Memorial. His work was also exhibited at the De Young Museum in San Francisco, California in 1939.
Oil on wood. H 51, W 34.5 in.
HALE 168

Last updated: August 11, 2015