Sculptures II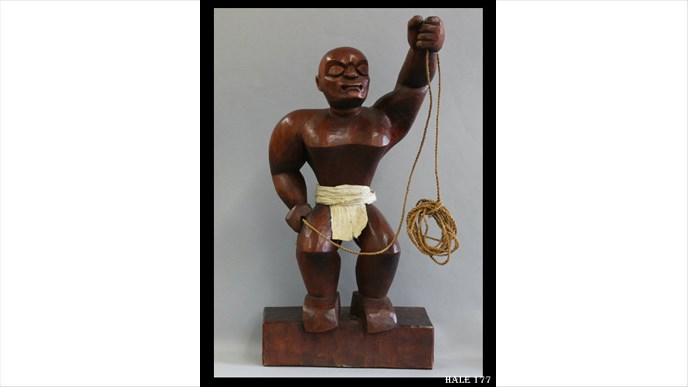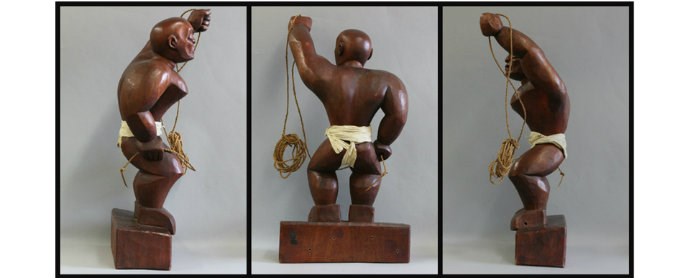 Maui
Sam Ka'ai
1984
The figure is a carving of Hawaiian demigod Maui.
Sam Kaha'i Ka'ai is a master woodcarver, artist, leader in the Hawaiian warrior movement, and noted scholar and teacher of Hawaiian cultural practices throughout the Pacific. He has played an important role in the Hawaiian Renaissance and has been a leading advocate in the revitalization of Hawaiian cultural practices such as the 'awa (kava) ceremony to honor distinguished guests. In 1978, 1980, and 1985, he served as a crewmember on the Hōkūle'a, the first long distance Hawaiian voyaging canoe replica launched by the Polynesian Voyaging Society and carved the two stern post ki'i (images).
Sam was born in Hana, Maui and was raised in remote areas of Kaupo where he worked with wood under the guidance of his granduncle, Lihau Ka'aihui. He accepted an art scholarship from the Honolulu Academy of Arts and studied sculpting, painting and design. In 1988, he studied with the New Zealand Maori Arts South Pacific Council as a non-academic Fulbright Scholar. Sam has contributed to many documentaries, and has been featured in numerous exhibits such as The Lifework and Collective Song of Sam Kaha'i Kaai: Naue Ka Honua - E Ala Mai lā Kihanuilūlūmoku (The Earth Shakes - Kihanuilūlūmoku Awakens) at the Maui Arts and Cultural Center.
Stained Honduras Mahogany. H 50, L 25, W 30 cm.
HALE 177
Last updated: August 11, 2015