'Ōlelo Hawaiʻi Classroom Materials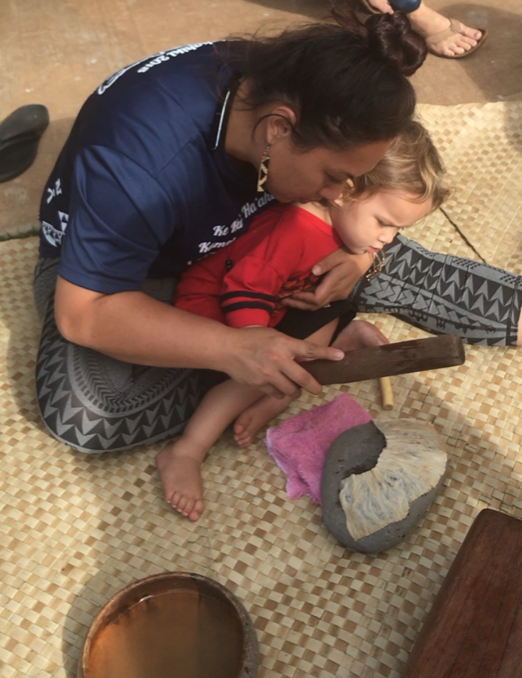 ʻAnoʻai me ke aloha
He wahi manaʻo pōkole kēia e wehewehe i ke kumu i hoʻomohala ʻia kēia kulikilama a me nā kumuwaiwai e kākoʻo aku i ka ʻōlelo Hawaiʻi no ka poʻe hoihoi e hoʻohana i nei kulikilama.
He mea nui e hoʻomaopopo ai i ka lehulehu ua ʻaneʻane make ka ʻōlelo Hawaiʻi. I ka makahiki 1896 ua hoʻokumu ʻia ke kānāwai 57 paukū 30. He ʻōlelo kēnā ʻia e pāpā ʻana i ka ʻōlelo Hawaiʻi ma nā kula me ka manaʻo e hoʻohana wale ʻia ka ʻōlelo Pelekania. Ua hoʻopaʻi ʻia ka poʻe ʻōlelo Hawaiʻi ma ia wā a ma muli o ka hoʻopaʻi ʻia ua heleleʻi ka heluna o nā poʻe ʻōlelo Hawaiʻi.
No laila, ua hoʻokumu ʻia kēia mau haʻawina me ka manaʻo e hoʻōla ka ʻōlelo Hawaiʻi no kēia hānauna a me nā hānauna e hiki mai ʻana.
Ma ka nui he kumuwaiwai kēia e kākoʻo i ka Papahana Kaiapuni a me ke kaiaʻōlelo Hawaiʻi.
He mea kēia e hōʻonoʻono a e hoʻowaiwai i nā haumāna e ʻike i ka nani a me ka momona o kēia mau ʻāina ma Hawaiʻi nei.
Me ke Aloha ʻĀina,
Heitiare Kawehi Kammerer
Kaleialoha Kaniaupiʻo Crozier
---
Greetings and Aloha!
This is a short summary to explain the purpose for which this curriculum was developed and to provide Hawaiian language resources to those who desire to utilize this curriculum.
It is crucial for the general public to know that the Hawaiian language nearly died. In 1896, act 56 section 30 was established. The law mandated Hawaiian language be prohibited in schools and made English the only medium of instruction in Hawaiʻi. Hawaiian language speakers were reprimanded during this time and due to these actions the number of Hawaiian language speakers dwindled.
Therefore, these lessons have been developed with the aim to revitalize the Hawaiian language for this generation and the next generations to come.
In general this resource is designed to support the Hawaiian Language Immersion Program and the Hawaiian language community at-large.
The intent is to engage and enrich students to know the value and sacredness of these lands here in Hawaiʻi.
With the love for our land,
Heitiare Kawehi Kammerer
Kaleialoha Kaniaupiʻo Crozier
Last updated: October 5, 2022