Hosmer Grove
Introduction
Hosmer Grove Campground is the only drive-in campground in the summit area of Haleakala National Park. It is located just below the 7,000-foot elevation in the summit area. This area was developed during the Mission 66 era (1956-1966) as an overnight camping and picnic ground. Hosmer Grove also offers a self-guided nature trail through introduced conifer and
Eucalyptus
trees that were planted in 1909 by Ralph S. Hosmer (1874-1963). Hosmer was the first Superintendent of Forestry of the Territory of Hawai'i and created Hosmer Grove as well as two other plantings at the 8,500-foot elevation and 9,000-foot elevation as experimental forestry plots on the north and west facing slopes of Haleakalā. When Hosmer created these plantings they were part of Haleakala Ranch, but now are within the boundaries of Haleakalā National Park.
In 2017 a cooperative project between Haleakalā National Park staff and historians at the University of Hawai'i at Mānoa was started to help the public understand the history of these places in the park. A report titled "Hosmer Grove and Associated Planting Areas Haleakalā National Park: Vestiges of Experimental Forestry in One of American's Earliest National Parks" was developed to document the history of these experimental forestry plots within the park. The report may be accessed
here
!
TIMELINE
1793: Cattle are introduced to Hawai'i and begin to impact the economy and ecosystem.
1830: The Sandalwood trade in Hawai'i has peaked and ravaged Hawaiian forests.
1846: The Great Mahele is established allowing for people to own land.
1848: A large section of the Haleakalā summit is owned by Kama'ika'aloa, a kānaka maoli (Native Hawaiian) of chiefly lineage and a konohiki (land manager) for Kamehameha III.
1870: Eucalyptus trees are imported and planted on Maui Island.
1888: Upper slopes of Haleakalā are sold to Haleakala Ranch. The ranch uses the land to graze cattle. Henry Perrine Baldwin (first President of Haleakala Ranch), begins to invest in long-term forestry management to improve the quality of water resources on Maui.
1893: Kingdom of Hawaii is overthrown and the Republic of Hawaii is set up by the Committee of Safety, who had implemented the overthrow.
1898: Hawai'i is annexed by the United States, becoming a Territory of the U.S.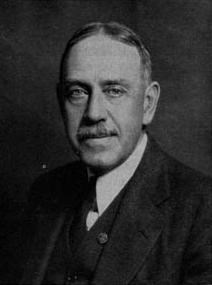 1904:
Ralph Hosmer becomes Superintendent of Forestry and Chief Fire Warden for Hawai'i. Hosmer sees that the Territory of Hawaii is in need of proper management of its forests. He is interested in developing a timber industry for Hawai'i.
1905:
The United States Forest Service is established.
1907:
Hosmer initiates the introduction of trees and shrubs with an economic value to Hawai'i. He wants to create test plots to observe what will grow at higher elevations.
1908:
U.S. Forest Service sets aside $2,000 for Hosmer to conduct forest experiments at high elevations. Hosmer cooperates with Henry P. Baldwin to do test plots on Haleakala Ranch lands.
1909:
Hosmer plants his first two experimental plots in the winter and spring on Haleakalā. Plot I at 6,500-feet elevation is what we know as Hosmer Grove today.
1
Plot II is located on Haleakala Ranch at 7,000-feet elevation. He plants different species of conifers and
Eucalyptus
.
1910:
In October 1910, the Division of Forestry receives another $1000 grant to aid the work on experimental plots at high altitudes on Mauna Kea and Haleakalā.
1911:
Hosmer's botanist and nurseryman Joseph Francis Charles Rock likely travels to Haleakalā to plant the two upper elevation plots at the 8,000-feet (Plot III) and 9,000-feet elevation (Plot IV).
1
Hosmer travels back to Maui to examine the results of his experimental plots.
1914:
Hosmer leaves Hawai'i to work for the College of Agriculture at Cornell.
1916:
The National Park Service is established by congress. Haleakalā becomes part of Hawaii National Park, which also includes the volcanoes Mauna Loa and Kīlauea on Hawai'i Island. The summit lands are still privately owned.
1 The plots have been mapped and recorded with modern GPS, and the lowest plot (Plot I) is now understood to be located at 6,800 ft elevation. Plot III is now understood to be located at 8,500 ft elevation.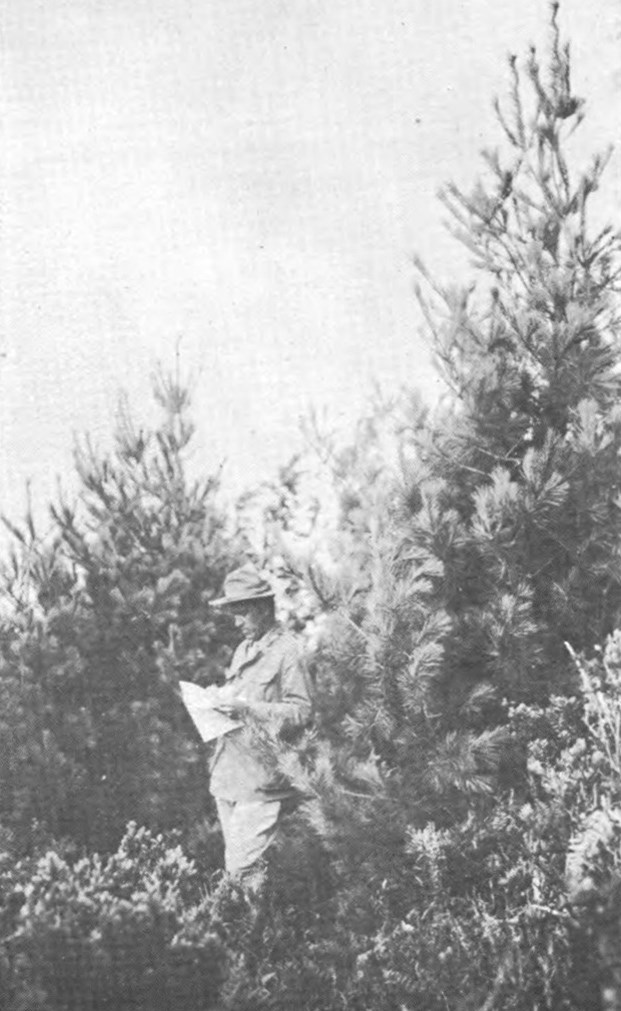 October 1921:
Charles S. Judd, Hosmer's successor as Superintendent of Forestry makes a trip to Haleakalā to examine the condition of the experimental plots. Judd is skeptical of the potential of Hawai'i's forest to provide the basis for a local lumber industry, preferring to accept that the principal purpose of the territory's forest reserves are to protect the water supply for both large and small-scale agriculture. Judd with the help of assistant Superintendent Charles J. Kraebel studied the remaining trees, doing measurements and recording species and varieties.
1928:
Haleakala Ranch trades summit lands to the Territory of Hawaii, who then deeds the lands to the National Park Service.
1933-1935:
The road to the summit of Haleakalā is built, allowing for more access to the summit area. This leads to the establishment of an administrative presence at the summit.
1941-1946:
U.S. Army occupies Haleakalā. The park is closed to the public from 1941 to 1943.
1947:
Walter W. Holt (Maui Associate Forester) surveys Hosmer's plots. He records and identifies at least twelve species of trees.
February 1952:
National Park Service sees a need for a campground and picnic facility at Haleakalā.
April 28, 1953:
Proposal for camp and picnic ground is added to the Master Plan for the park.
May 1953:
Regional Landscape Architect Alfred C. Kuehl, inspects and reviews the Haleakalā development plan for proposed picnic area. The 6,800 pine grove that Hosmer planted is chosen to be the campground.
August 1953:
A concept drawing is created for the campground at the 6,500-foot plot and is named Pine Trees Campground. Layout for the campground is designed to be in the grove of trees.
Sept. 1954:
The 8,000-foot experimental plot is planned to be a campground and road plans are developed to the plot.
June 1954:
Road to the 6,500-foot experimental plot is designed and referenced as Route 29.
August 1954:
The road to the 6,500-foot experimental plot is developed and named "Pine Tree's Camp and Picnic Ground Road."
August 29, 1954:
The Hui Ahinahina (Silversword Society) adopts a proposal from Colin Lennox (former President of the Board of Commissioners of the Department of Agriculture and Forestry of the Territory of Hawaii) that the 6,500-foot experimental plot be named "Ralph S. Hosmer Grove."
December 15, 1954:
Conrad L. Wirth (Director of the National Park Service) officially designates the 6,500-foot experimental plot as "Ralph S. Hosmer Grove."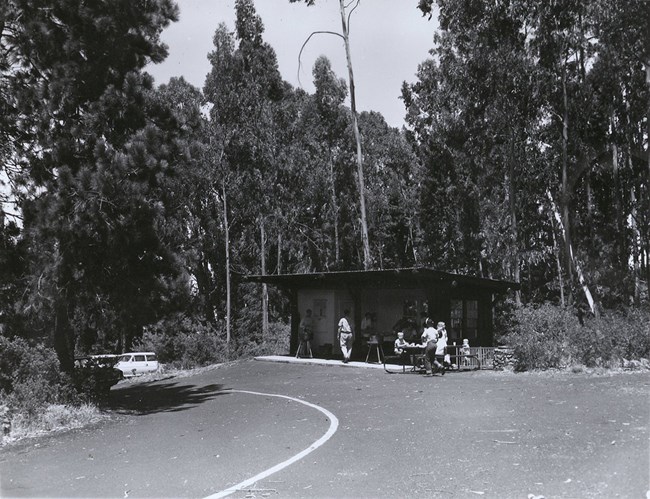 1955-1966:
Due to the increase in visitation to National Parks after WW II, the National Park Service creates the Mission 66 program. This is a ten year program intended to modernize, enlarge, and even reinvent the National Park System. The program called for visitor centers, new exhibitions, and more campgrounds and picnic areas.
June 1955:
Road to Hosmer Grove is referred to as "Pine Tree Road" and is reportedly damaged due to a storm.
September 1955:
A study is done on creating a self-guided trail through Hosmer Grove. A booklet is to be published by Natural History Association. Campground road is fixed from flood damage and surface repairs are made to the parking area.
November 1955:
Campground is cleared of
Eucalyptus
trees.
December 1956:
Campground is cleaned up and a trash can is added to area.
April 1956:
Mission 66 Prospectus states that the Pine Tree Campground will be scheduled for construction in 1958 and will provide the needed picnic and campground facilities for Haleakalā. Campground will consist of 5 fireplaces, 5 table-and-bench combinations and two comfort stations. Water will be provided from MeGee Springs.
October 1957:
The design of the campground has changed to be outside of the grove of trees.
February 24, 1958:
Pine Tree Campground development starts. A pit toilet is erected and a water line for fountains is installed. Site for future shelter is cleared and a concrete floor slab is placed. A bridge over the gully in the grove is installed.
April 25, 1958:
Construction is completed at Pine Tree Campground.
May 12, 1958:
Campground is referred to as Hosmer Grove Campground and Picnic Area. There is a visitor registation and interpretive panels are installed at the campground.
August 1959:
Hawai'i becomes the 50th state.
April 1959:
Hosmer Grove is surveyed for a potential quarter mile nature trail.
May 1959:
Hosmer Grove Nature Trail is constructed. Bridges are installed and path is leveled. Labels for the plants are developed.
October 1959:
The Hui Ahinahina presents $200 to the park to pay for interpretive signs at Hosmer Grove.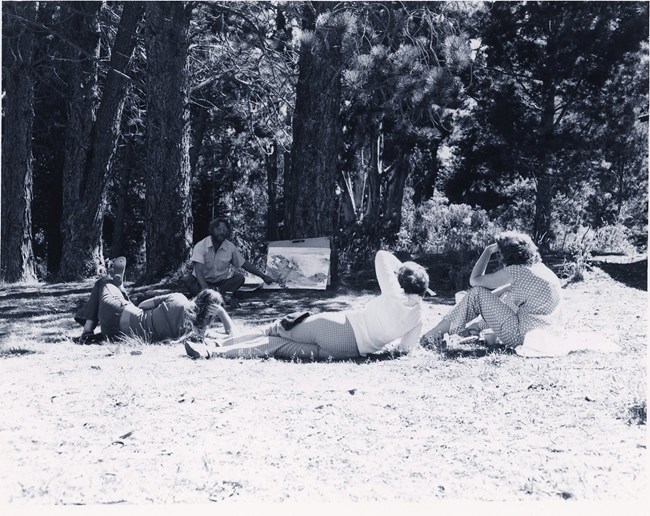 1961
: Haleakalā section separates from Hawaii National Park and becomes Haleakalā National Park.
November 1963
: Hosmer's 8,000-foot elevation test plot is still intended to be a campground. However, the campground project is never implemented.
1969:
Boy Scouts help with clearing shrubs and trees along the trail at Hosmer Grove Campground.
1971:
The Park put forward plans to expand additional campground space at Hosmer Grove. However it is resisted by local residents due to water resource concerns. Park settles on limiting the number of campers to twenty-five rather than expanding the campground.
May 1973:
Park Starts to limit the number of visitors for overnight camping to 25.
1976:
Campground is used as a teaching facility by park's Artist-in-Residence Bruce McGrew.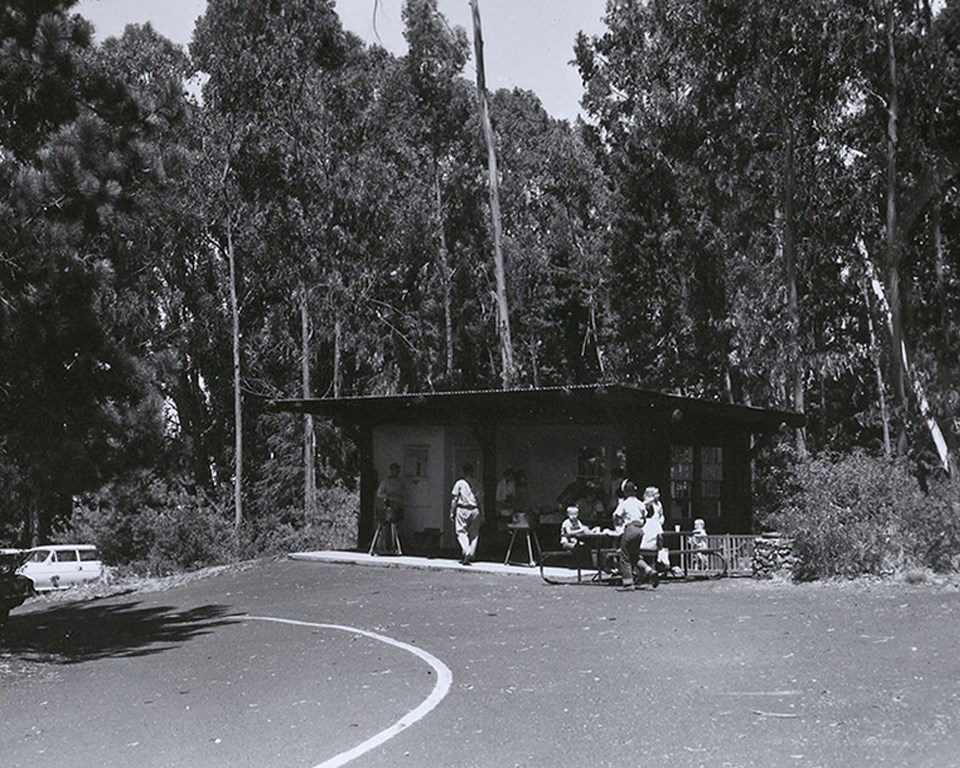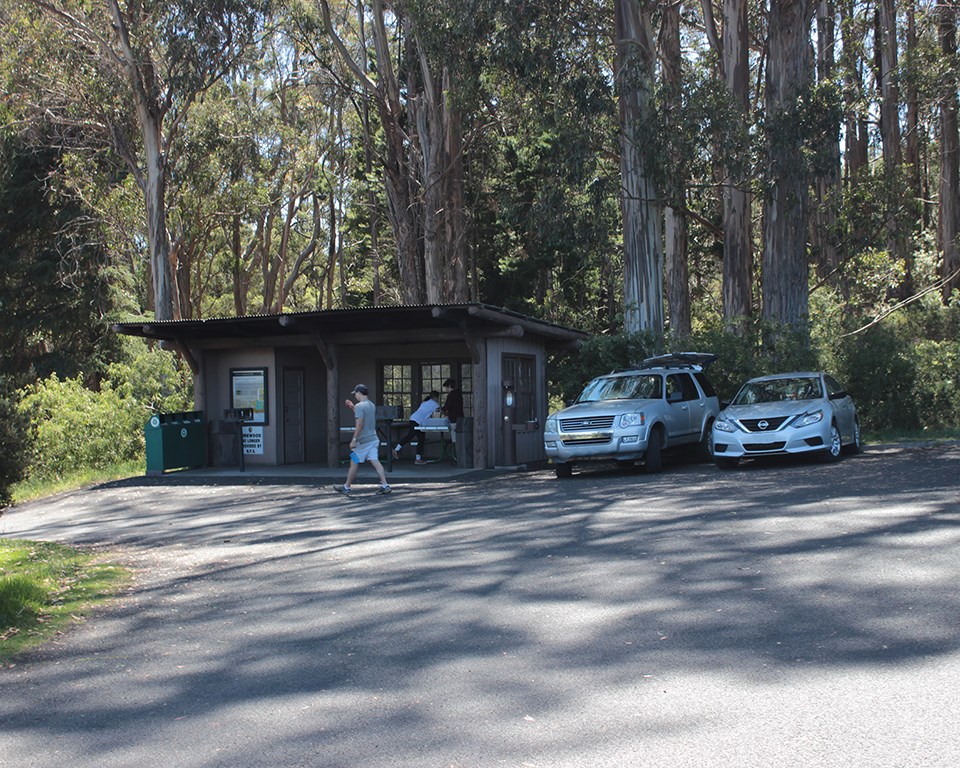 Left image
Hosmer Grove Campground Shelter (1962)
Credit: NPS Photo
Right image
Hosmer Grove Campground Shelter(2019)
Credit: NPS Photo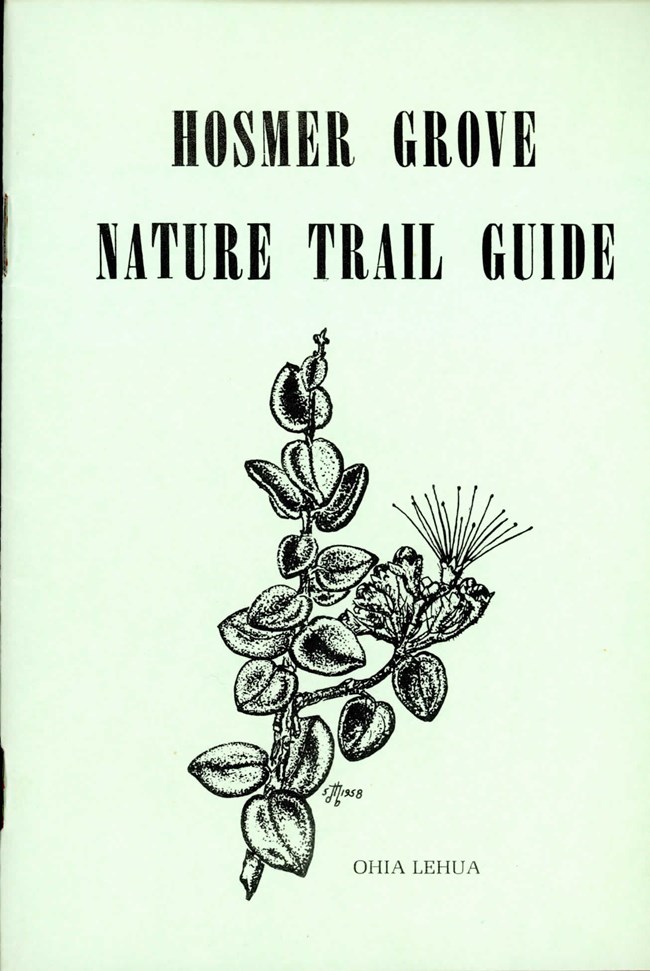 1981:
A fence is installed along Hosmer Grove boundary of the park.
1982:
Park develops new interpretive plan to better introduce visitors to the unique features of the one-time experimental forestry plot. The plan is labeled "Hosmer's Experimental Forest" and it creates wayside exhibit panel featuring Hosmer's story, the grove, and native plants.
1986:
Fence is upgraded around the Hosmer Grove boundary of the park.
1989:
Hosmer Grove has a rabbit infestation. This is caused from people leaving their pets in the park.
1990:
The rabbits are eradicated from Hosmer Grove due to concerns of native plants being threatened.
1991:
A new chemical toilet is installed at Hosmer Campground. The upper loop of the nature trail is reopened following rabbit eradication.
1994:
Hosmer Grove nature trail is reconstructed and hazardous trees are cut down.
1995:
Hosmer Grove campground is improved to be more accessible.
1998:
Development plans are made for the installation of a double vault, accessible, restroom facility at Hosmer Grove Campground.
Circa 1998-1999:
The original bridge crossing the gulch in the grove is distroyed by a big rain event and is re-built using the same kind of materials and in the same method as the original bridge.
1999:
New restroom facility is installed at campground.
2000:
Fire grills are replaced at Hosmer Campground.
2000:
Road to campground is referred to as "Hosmer Spur Road."
2003:
Hosmer Spur Road and pargking lot is repaved. A parking lot is added to the road to serve as parking for hikers using the Supply Trail.
2006:
Rock check steps are installed near the exisiting asphalt area at the campground in order to mitigate erosion.
Circa 2007
: Recycled plastic lumber is used to install railings along the nature trail.
Circa 2008-2010:
Downed
Eucalyptus
and cedar trees are used to build additional railings.
2016:
Haleakalā National Park celebrates 100 years.
Aug. 2016:
Park staff remove pine trees from Hosmer Grove Campground.
2018:
Park staff remove
Eucalyptus
species, Jeffrey pine (
Pinus jeffreyi
) and other hazardous trees from around the campground and nature trail.
Present (2019):
Hosmer Grove Campground continues to be used for recreation at Haleakalā National Park.
Last updated: November 8, 2023