Discovering Haleakalā's Past: Early Archeology of Haleakalā National Park
INTRODUCTION
Haleakalā is a sacred place that has been used since ancient times. It is the dwelling place of nā akua (the gods), where kahuna (priests) conduct ceremonies. In the past, Native Hawaiians built special sites in the wilderness of Haleakalā to study and revere the stars. Physical remains of stone shelters, trails, and cave sites show the extensive quarrying of basalt rock for stone toolmaking.
During the early years of Haleakalā National Park, multiple archeological surveys were conducted to understand past land use. Anthropologists set out with pack mules, horses and local guides to excavate, map, and document sites that showed evidence of human activity.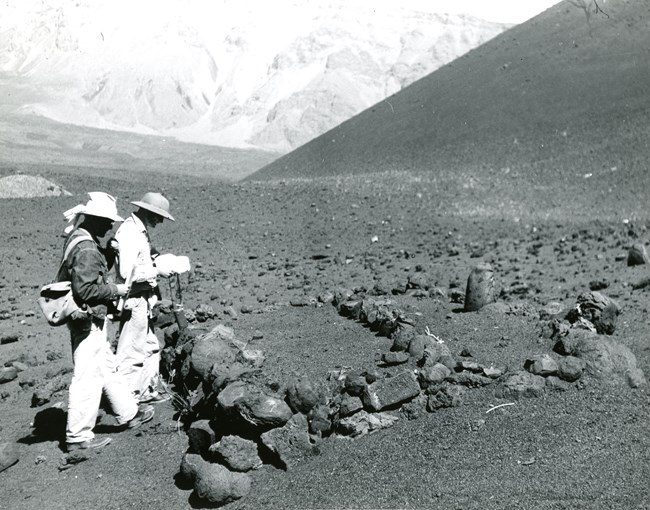 EMORY AND SOEHREN; TWO ANTHROPOLOGISTS, MANY EXPLORATIONS.
Anthropologists Kenneth P. Emory and Lloyd J. Soehren have contributed to the development of archeology in Hawai'i and at Haleakalā National Park. Emory was the first anthropologist to survey Haleakalā in 1920.
The next major expedition was led by Soehren in 1962. Both men were sponsored by the Bernice Pauahi Bishop Museum, the largest museum in Hawai'i. Soehren and Emory made one visit together to the park to survey archeological sites (pictured).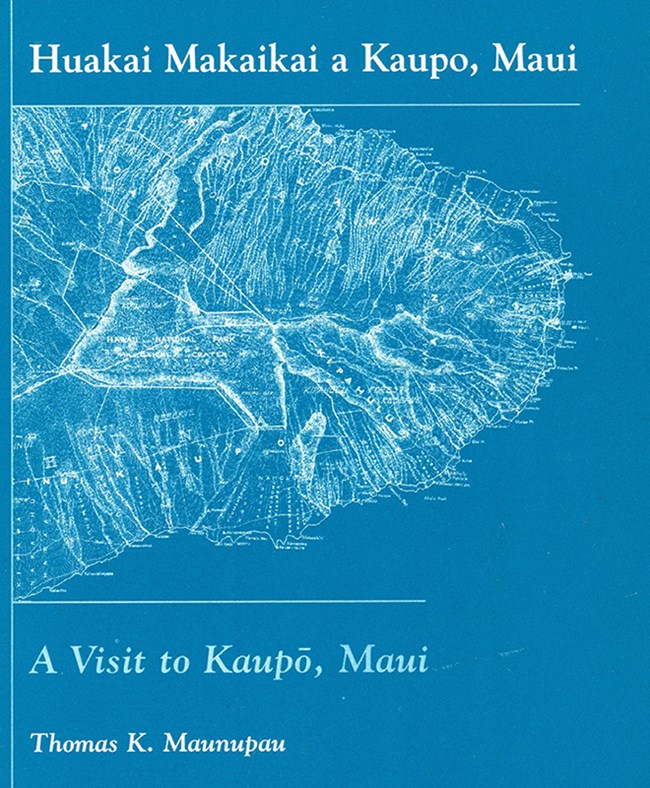 THOMAS MAUNUPAU: HAWAIIAN EXPLORER
Thomas Kananiokeaupunimalamalama Maunupau was an influential Hawaiian scholar of the early 1900's and was an advocate of his Hawaiian culture. Maunupau accompanied Emory into the Haleakalā wilderness in 1922 and the two men developed a lifelong friendship. Maunupau saw this expedition as a way "to look at Hawaiian culture and uplift it with importance and dignity" (Maunupau, 1998 vii).
Maunupau's descriptive account of the 1922 expedition was originally published in several installments in the Ka Nupepa Kuokoa (Hawaiian language newspaper) from 1922-1923. The account has since been compiled from the historic newspapers and published in English (book exhibited).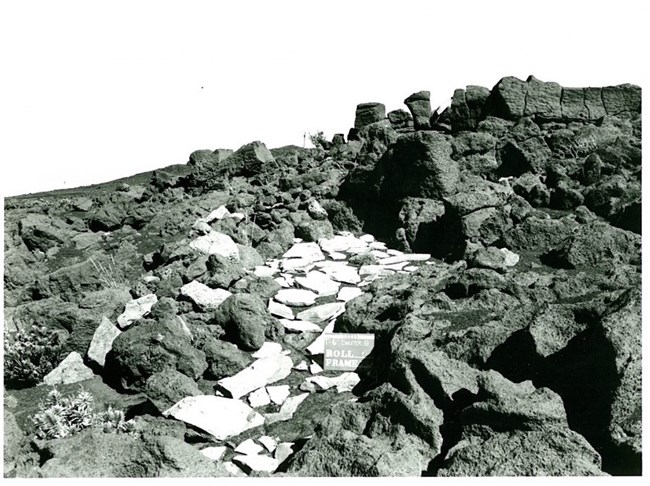 HALEAKALĀ UNINHABITED
Native Hawaiians consider the summit of Haleakalā a sacred place and never established permanent settlements in the
Wao Akua
(realm of the gods).
Some of the sites located at Haleakalā were once used as temporary sleeping shelters for Native Hawaiians traveling to Haleakalā for specific purposes and show no evidence of permanent occupation. These
pā
, or enclosures were a necessary protection against the fog, rain, and cold wind that frequently occurs in the higher altitudes of Haleakalā.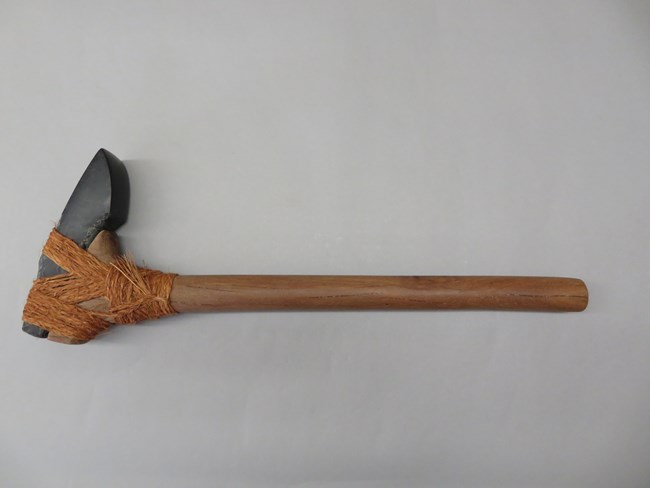 KO'I: SIMPLE MATERIAL, LABORIOUS PROCESS
Ko'i
or adze (stone ax-like tool), were used to harvest trees, carve canoes and
ki'i
(statues). The process for making
ko'i
is labor intensive. Following the traditional method, the
kāko'i
(adze maker) obtains a piece of dense basalt stone. The
kāko'i
then chips away at the stone with a
haku kā ko'i
(chipping stone) giving it a triangular shape.
Once shaped the
ko'i
is applied to a
hoana
(grind-stone), which is sprinkled with sand and water. The
ko'i
is then lashed to a wooden handle. Local artist and master carver Kenneth Hiraoka has created a
ko'i
(exhibited) inspired by those found in Haleakalā National Park.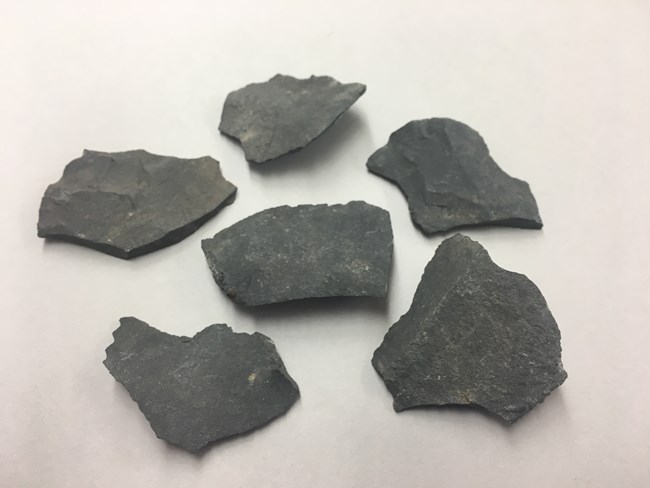 QUARRYING BASALT TO MAKE KO'I.
The fine-grained basalt from the Haleakalā adze quarry was a major source of material for
kāko'i
(adze makers).
Kāko'
i would gather basalt from the summit of Haleakalā and chip away the stone forming a rough, unfinished ko'i, leaving behind hundreds of pieces of stone flakes.
The stone flakes exhibited were collected in the Haleakalā wilderness by Soehren (pictured) in 1962. Caves near the Haleakalā adze quarry were commonly used as shelters for
kāko'i
shaping adze. The unfinished
ko'i
would then be transported down the mountain to workshops in the villages to be ground and polished into finished
ko'i
.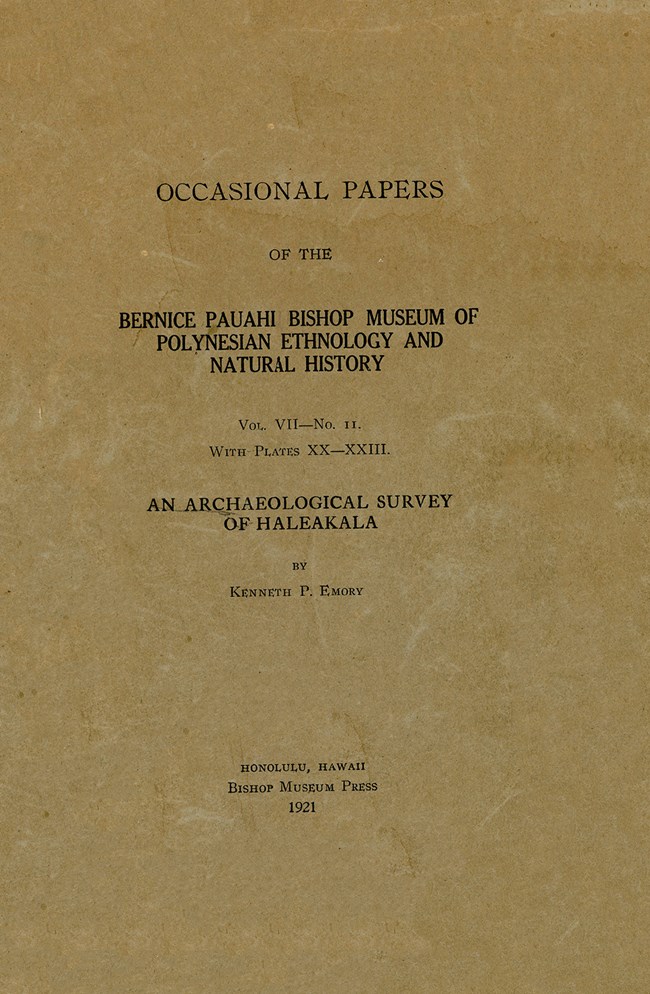 WHAT ARCHEOLOGICAL SITES ARE IN THE HALEAKALĀ WILDERNESS?
Emory published his findings in 1921 with illustrations and photos from his 1920 expedition of the Haleakalā wilderness. Most of Emory's discoveries were of stone mounds, terraces, and platforms dating to the pre-Western Contact Native Hawaiian period. Emory interpreted these as
heiau
(temple sites), sleeping shelters, and
ahu
(shrines or markers).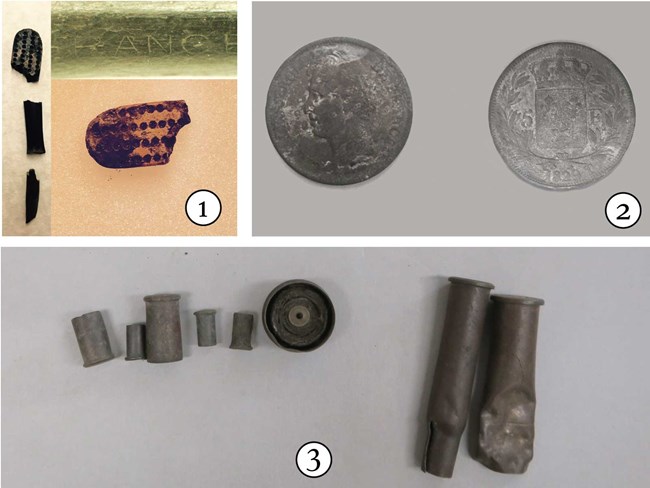 OBJECTS FOUND ON SOEHREN'S SURVEY
The objects photographed are from Soehren's 1962 survey in Haleakalā National Park. Soehren collected artifacts that date to the periods before and after Western Contact with Hawai'i. The historical (post-Contact) artifacts may have been left behind by early explorers, ranchers, or visitors to Haleakalā.
WHAT ARE HAWAIIAN FISH HOOKS MADE OF?
Traditional makau (Hawaiian fishhooks) are made of bone, shell, and wood, varying in size and shape depending on the type of fishing. The makau exhibited is an artist's rendition of an artifact found in 1962 by Soehren during his Haleakalā survey. It is unknown why the fishhook was left behind. Can you think of any reasons?
RESPECT AND REPATRIATION
Emory and Soehren's work in the Haleakalā wilderness is important for the preservation of the history of Haleakalā. However, some of the sites that Emory and Soehren excavated contained human burials, which today we see as unethical to disturb.
All of the remains and burial related objects collected during Emory and Soehren's excavations have been repatriated to Haleakalā and were properly taken care of by kūpuna (Native Hawaiian elders).
Last updated: January 30, 2019