Learn to Ride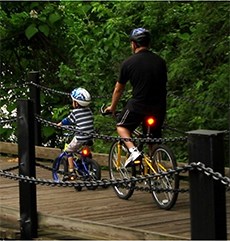 Learn to Ride introduces an effective and low-stress way to learn to ride a bicycle. Using a "balance first" method, kids will learn how to ride independently. This program helps young riders to be more comfortable while teaching both parents and children an easy biking technique.
Program space is limited. Advance registration is required.
Parent participation and support are essential. Each adult may bring no more than two children.
Participants must be at least 5 years old.
Participants must bring a bike and a helmet that fits properly.
Participants must be able to rest their feet flat on the ground when sitting on their bicycle seats.
Registration
CLOSED

Registration for the ALL 2020 Learn to Ride sessions will NOT open in April. We will re-evaluate the current COVID-19 pandemic situation again on May 15th to determine when registrations might be safe to begin. Please look for updates here on this website. There are no early registrations.

Jones Point Park offers Learn to Ride most Saturdays from May 9, 2020 until September 26, 2020. To inquire about Jones Point Learn to Ride programs e-mail us here, and include the text "LTR" in the subject line. Specific early dates have been identified for Saturdays March 28, April 4, and April 11 at Jones Point Park.

Learn to Ride is offered on alternating Sundays from 10 am to 12 noon from April until October at Turkey Run Park. To inquire about Turkey Run Learn to Ride programs e-mail us here.

Please see the section below for F.A.Q's or call (703) 289-2500 for inquires.
Answers to Frequently Asked Questions

How early can I register for the next season?
There is no early registration. Registration usually opens in the early spring, and programs usually begin around the middle of April.

Do I need to bring tools?
No, we have a complete toolkit that we bring, including wrenches and a bicycle pump. The only thing we can't do is adjust your bicycle chain.
Do I need knee and elbow pads?
Not really. If they make you feel less scared you can certainly bring them, but the first thing we show you is that you can't fall: all you have to do is put your feet down.
Can I sign up a child who is not five years old yet?
No. We set a minimum age of five because most younger children have not figured out how to balance well enough to succeed in the program. The last thing we want is for a child to get frustrated and decide that biking is terrible.
Can I bring my child's younger brother or sister?
Yes, but parent participation is very important. Your child is more likely to learn how to ride if you are able to devote a lot of attention to him or her.
Can adults learn, too?
Absolutely. We have taught several adults how to ride.
How does the program work?
We take the pedals off the bike and lower the seat. We teach you how to push yourself with your feet and glide (so that you learn how to balance). Once you can balance really well we put the pedals back on. We show you how to push, glide, get your feet on the pedals, and go (all without looking down). Finally we show you how to start with one foot on a pedal and one on the ground. Then you just practice! Because you do everything yourself you never have to worry about going too fast or falling over.
Do I need to sign up for more than one session?
Most people do not. Even if you don't learn how to ride during the program, you'll know what you need to go home and practice.
Last updated: April 2, 2020