Fort Hunt Concerts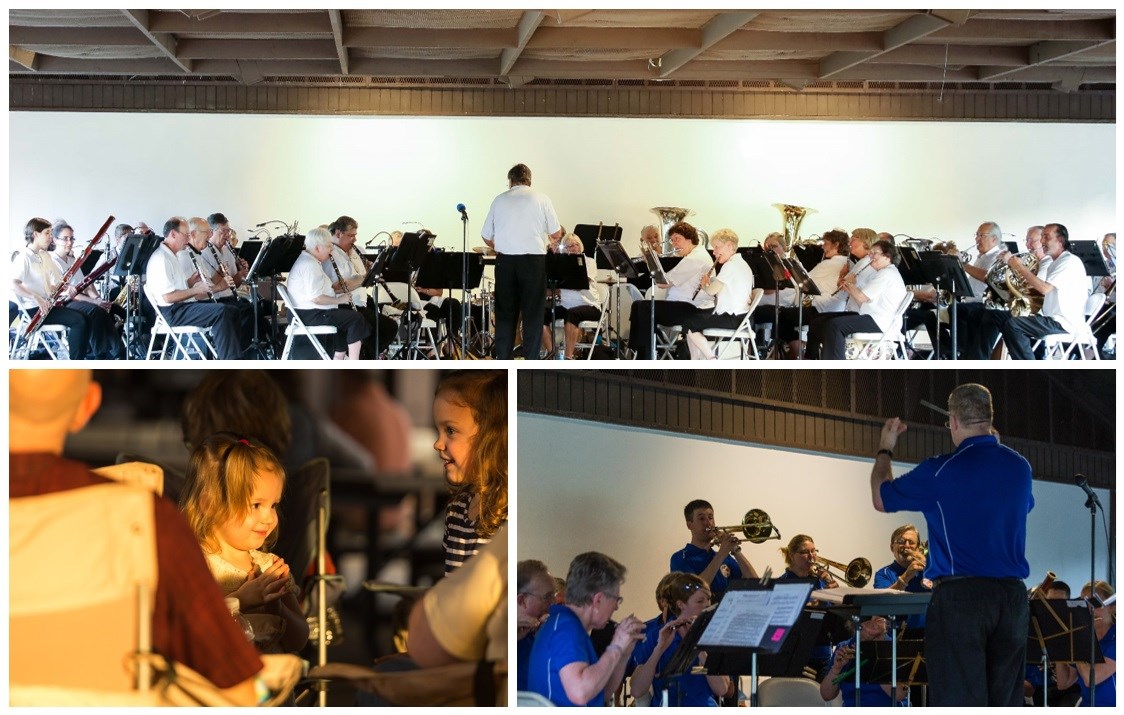 Join Us for Free Concerts at Fort Hunt Park
All are welcome for free community concerts held at Fort Hunt Park every Sunday in June, July and August. Concerts are held at Pavilion A. The park's grassy fields are a great place to relax with a picnic while local bands play music from a variety of genres. There are picnic tables in the pavilion, but bringing your own chair or blanket is recommended at seating is limited.

All concerts are FREE and open to the public. No ticket or reservations are needed. All concerts begin at 7:00 p.m.
2023 Summer Concert Schedule
June 4 - National Concert Band
The National Concert Band of America (NCBA) was founded in 1974 by veterans and legendary players from each of the Washington-area military service bands. As such, the group's heritage lies in the history and traditions of the Military Bands of the U.S. Armed Forces. Currently, membership includes veterans of the country's great military service bands, as well as civilian musicians who have demonstrated outstanding instrumental proficiency and musicianship.
June 11 - Mandoleers
Founded in Takoma Park in 1923, this mandolin and guitar orchestra has charmed audiences in the Washington D.C. Area for the past century.
June 18 - Surf Jaguars
The Surf Jaguars play a variety "beach party" show—Beach Boys, Elvis, the Black Keys, Dick Dale, the Ventures—and original compositions, to boot. Come out for a rockin' good time!
June 25 - Vienna Community Band
Providing free public concerts throughout the year in the town of Vienna, Virginia and its environs, The Vienna Community Band proudly continues the fine musical tradition of public music in America. Formed in 1975, the group now numbers about 70 volunteer musicians. The band's repertoire includes concert band music, military marches, operatic and orchestral transcriptions, Broadway melodies, jazz, Dixieland, popular and rock tunes, and numerous kinds of novelty music.
July 2 - Northern Virginia Saxophone Quartet
The Northern Virginia Saxophone Quartet is a foursome of saxophone enthusiasts performing a mixed program of classical, theatrical, popular and jazz songs. The group utilizes the full range of single reed instruments in their performances at community events in Northern Virginia.
July 9 -
Bruce Corsino
Sponsored by the U.S. National Park Service, this FREE show delivers the music OF and FOR this country to celebrate those times when Americans really do work together to help each other as one people. Piano-Vocal recording artist Bruce Corsino will appear live to belt out his versions of The Great American Songbook—the standards, blues, popular and Broadway tunes you know and love that express what's good in ALL 50 states and the District of Columbia! Don't miss this one!!
July 16 - Mount Vernon Concert Band
The Mount Vernon Concert Band was formed in 1978 and has since then, brought concert band music to the local community. The band is a volunteer musical ensemble that consists of graduating high school students, former military and former college musicians and provides them a venue to continue their musical interests. With performances in various community events, the concerts include marches, light classics, popular showtunes and overtures, and patriotic selections.
July 23 - Starlight Orchestra
The Starlight Orchestra specializes in jazz music composed between the swing era and modern times. They have performed in the Washington, DC area for more than twenty years.
July 30 - Lesson Zero
Lesson Zero hails from Northern Virginia, just outside Washington, DC. The band plays original roots rock and classic covers. Local DJs have often described their sound as a mix of The Beatles, The Beach Boys, Bob Dylan, Pink Floyd and other great artists. Their music features a touch of various musical genres ranging from indie, alternative, country, Cajun, blues, to roots rock.
August 6 - Capital Horns
Founded in June 2017, the Capital Horns of Washington Conservatory of Music is a horn choir created in order to provide players of the instrument a supportive environment to gather, rehearse and perform. They rehearse at Glen Echo Park on the second and fourth Sunday of each month from 6:00-7:30 PM.
August 13 - Collective Delusion
Collective Delusion plays an electric variety of rock music from the 1970s to today at various events throughout Northern Virginia and the DC Metro Area. The band is composed of members with various influences from folk to jazz and two rocking ladies leading vocals
August 20 - Hot Lanes
The Hot Lanes is a 16-piece culmination of a vision Bobby Jasinski had in 2014. With influences ranging from Wynton Marsalis to the Jazz at Lincoln Center Orchestra, the focus of The Hot Lanes is to promote jazz in the D.C. metropolitan area. Featuring diverse and talented group of musicians, The Hot Lanes encourages jazz music through concerts, festivals, educational masterclasses in the public school system and other appearances.
August 27 - Alte Kameraden
Alte Kameraden or "old comrades," is the title of a popular German military march. The group has belonged to the City of Fairfax Band, as its German Band, since its founding in 1977. The band has introduced American audiences to the lush, spirited festmusik played by Bavarian lands.

Last updated: July 9, 2023