North Parkway Project History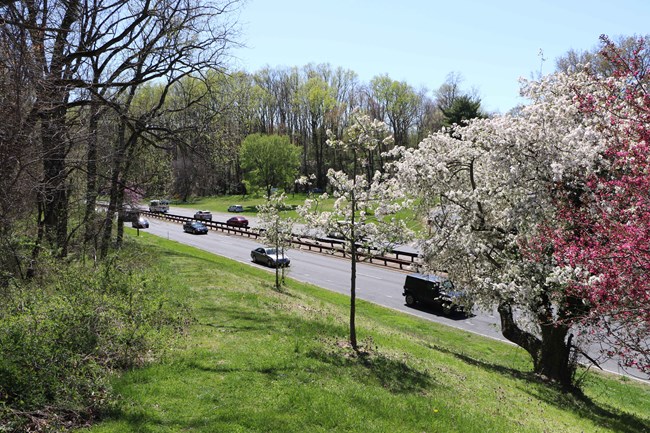 The George Washington Memorial Parkway (GWMP)—a scenic roadway honoring the nation's first president, that protects and preserves cultural and natural resources along the Potomac River below Great Falls to Mount Vernon— is an important commuter roadway and serves as an integral part of the region's transportation system. It is also a National Park, consisting of very important resources that the park staff works to maintain for future generations to uphold the mission of the National Park Service.
The northern section of the curves along the Potomac Gorge highlighting steep cliffs and rich woods. The unique scenic driving experiences provided along the parkway are achieved through the maintenance and protection of the natural areas as a scenic buffer along an urban area. When originally constructed the parkway displayed the latest in road engineering methods for its time—a wide, gently curving roadway with a grassy median, low stone guide walls, and soaring steel-and-concrete arched bridges which are contributing design factors for the listing in the National Register of Historic Places.
In September 2018, the NPS achieved a major milestone project by completing an environmental review completed for the rehabilitation. The NPS completed an Environmental Assessment and analyzed public comments before deciding how best to rehabilitate the north section of the parkway. With the Environmental Assessment complete, the NPS was eligible to compete for funds through the National Parks and Public Lands Legacy Restoration Fund established by the Great American Outdoors Act of 2020. Supported by government revenue from energy development, the fund was designed to help reduce the multi-billion dollar deferred maintenance backlog in national parks
The rehabilitation project will address serious deterioration and the continual need for corrective and emergency maintenance. For an example, the cost to repair a large sinkhole in 2019 was $1.6 million and resulted in a single lane closure for five months. This work included 50 vertical feet of excavation, removal of a 60-year-old, failed drainage structure, installation of a new drain and back-filling the excavated area.
In the fall of 2019 the NPS repaired a number of rough areas in an effort to prepare the parkways for winter driving and improve the recreational driving experience. The milling and paving project removed more than 76,000 square yards of the road's surface and placed more than 7,000 tons of new asphalt between Spout Run Parkway and I-495, the Capital Beltway. These efforts provided some short-term relief while the NPS worked to secure funding for the larger rehabilitation project.
The first phase of the rehabilitation project will be design, and park visitors and drivers will experience little or no change to their routines. Construction, which is tentatively scheduled to begin in 2023 and completed in 2025, will impact drivers.
Last updated: December 7, 2021