North Parkway History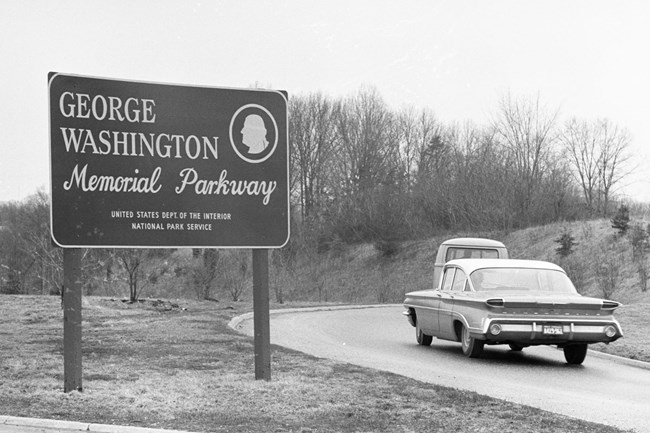 George Washington Memorial Parkway was established by Congress on May 29, 1930, through Public Law 71-284, the Capper-Cramton Act. The parkway runs along the Potomac River through two states—Virginia and Maryland—as well as the District of Columbia, protecting the landscape and natural shoreline of the river while offering magnificent scenic vistas of Washington, D.C., and the Great Falls of the Potomac. Along its route, the parkway also connects several important historic sites, memorials, and scenic and recreation areas in the Washington, D.C., metropolitan area.

The Capper-Cramton Act prescribed the construction of two parkway segments along the Potomac River. The Maryland section would be built from Fort Washington to the Great Falls and, on the Virginia side, from George Washington's Mount Vernon Estate to the Great Falls. Already under construction in Virginia, as part of an earlier planning effort for the George Washington Bicentennial Celebration in 1932, was the Mount Vernon Memorial Highway, running from Arlington Memorial Bridge in Washington, D.C., to Mount Vernon. The Capper-Cramton Act included this roadway, begun in 1928, under the authorization for the George Washington Memorial Parkway. This initial southern section, opened in 1932, pioneered many principles of roadway design including limited access construction, grade-separated intersections, cloverleaf interchanges, and landscape design.

The northern section of the parkway, from Arlington Memorial Bridge to I-495, was built in stages starting in the 1940s and reaching completion in 1962. This northern section displayed the latest in road engineering methods for its time—a wide, gently curving roadway with a grassy median, low stone guide walls, and soaring steel-and-concrete arched bridges. In 1989, the George Washington Memorial Parkway running along the Maryland sideof the Potomac River was renamed Clara Barton Parkway. Construction on the northern portion of this roadway, from MacArthur Boulevard to Glen Echo was completed in 1965 and the southern portion, from the Maryland/District of Columbia line to Chain Bridge was completed in 1970.

Learn more about the parkway in its National Register of Historic Places Registration Form.
Last updated: December 2, 2021