North Parkway Construction, News, and Impacts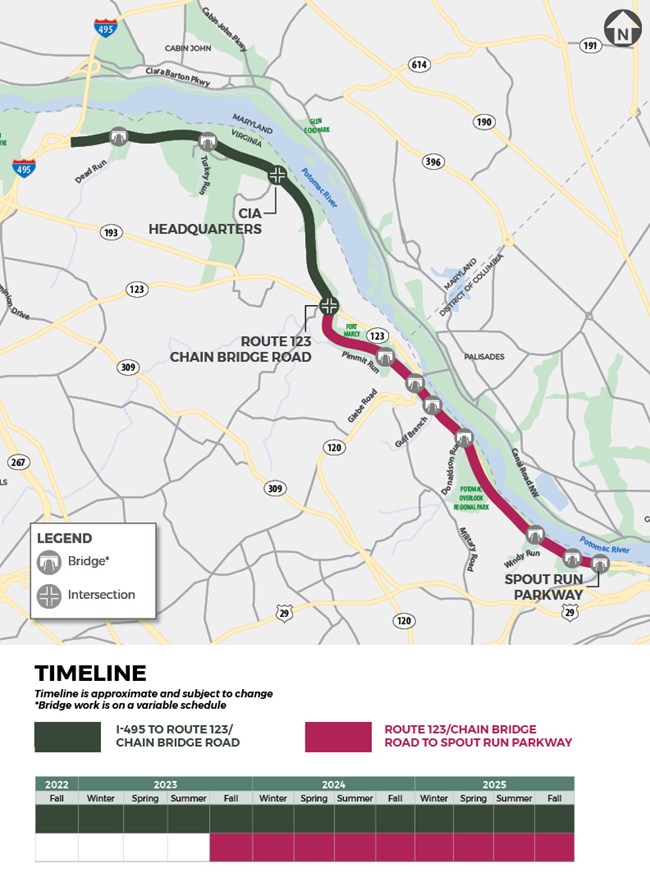 Construction will occur in phases beginning with temporary road widening in the median along the northbound travel lanes and on two bridges between Route 123 and Spout Run. Bridge work is independent of road work as some of the bridge construction activities have weather restrictions and can only be performed during certain temperatures. Construction will impact drivers and park visitors for the duration of the rehabilitation. A minimum of one lane of traffic in each direction will remain open at all times. The project is anticipated to be completed in late 2025.
To opt in to receive email updates about traffic, meeting notices and information about major milestones please click here.
To contact the project team please e-mail us. 
View recordings of informational public meetings on our public meeting webpage.
Current Construction (Updated March 2023)

Daily Lane Closures
Motorists should expect lane closures as construction crews continue to install the temporary roadway between I-495 and the Route 123 interchange. Activities include removing select trees in the median and the outfalls, installing temporary drainage, and activities related to installing temporary pavement.

Motorists may see crews remove select trees at the outfalls over the next couple of months. Additionally, once crews begin select tree removal at the outfalls near Route 123 and other locations along the parkway, activities may be visible from the surrounding properties. The rehabilitation project includes tree replacement, which will occur at the completion of the project. Additional details about upcoming construction phases are under Roadway Construction Phasing – Southbound Lanes I-495 to Route 123.

Work is scheduled to occur on the federal holiday (Washington's Birthday, also known as Presidents Day) on Monday, February 20.

Weekday lane closures:
Northbound lane closures from 6:30 a.m. to 2:45 p.m.
Southbound lane closures from 9:30 a.m. to 7 p.m.
Saturday lane closures:
Northbound left lane from 6:30 a.m. to 6 p.m.
Southbound left lane from 6:30 a.m. to 6 p.m.
Nighttime lane closure hours (possible depending on weather temperatures):
Northbound lane closures from 7:15 p.m. to 6:30 a.m.
Southbound lane closures from 7 p.m. to 5:30 a.m.
Crews may not always be visible to motorists when lane closures are in place; however, these lane closures are necessary to stage equipment and keep crews safe. Lane closures may occur in the left or right lane with varying lengths; however, at least one lane of traffic in each direction will always remain open.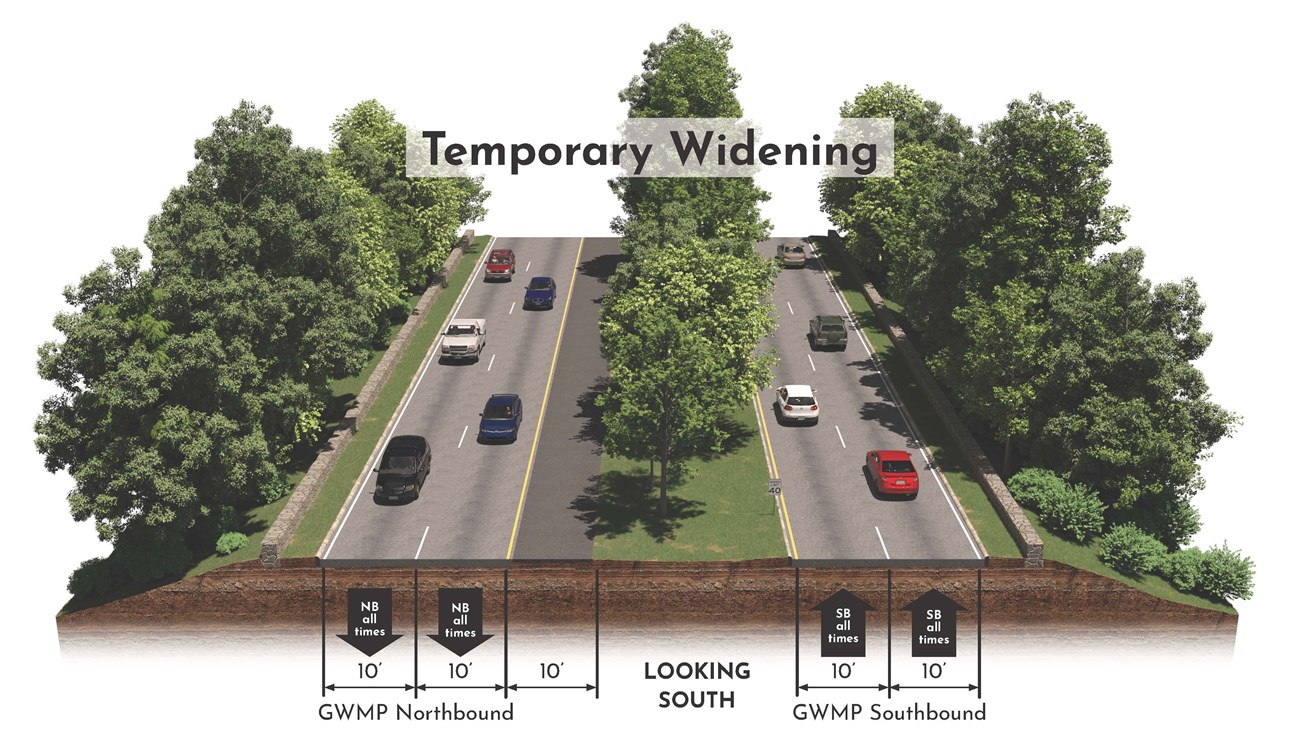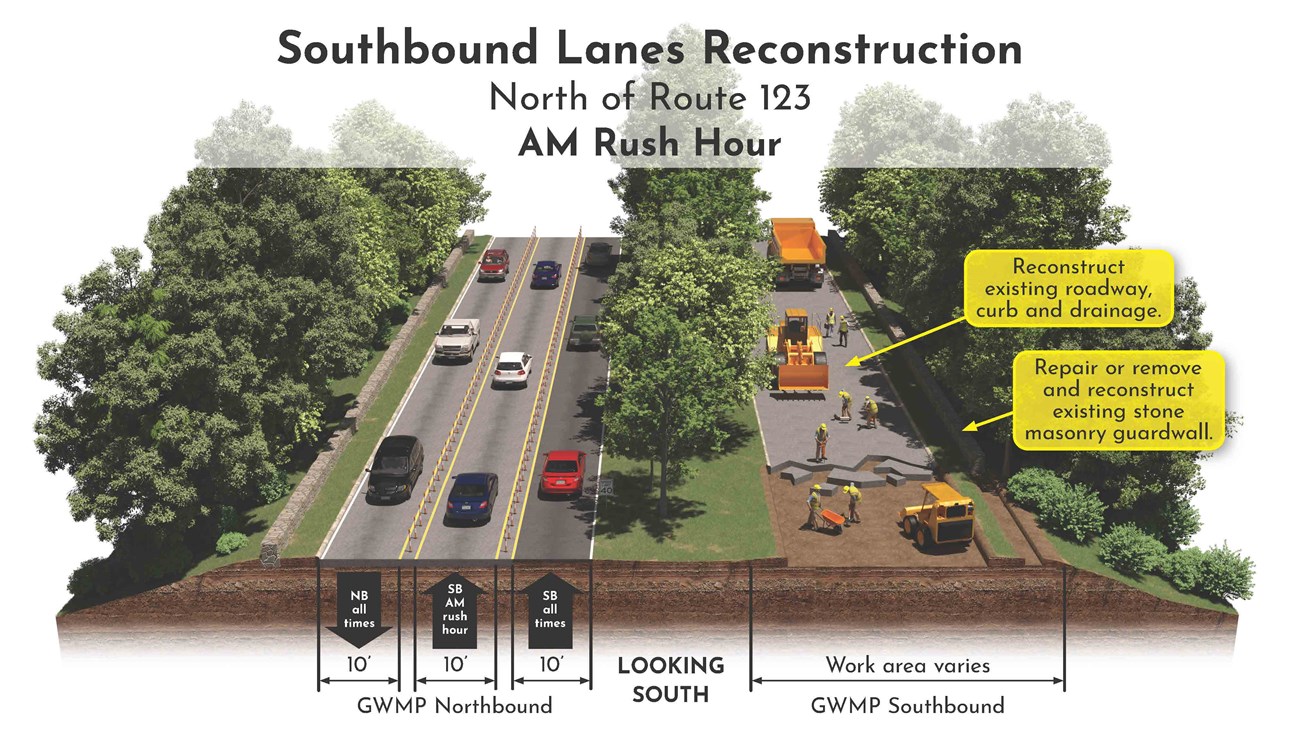 Bridge Construction
Work on the Pimmit Run Bridge and Glebe Road Bridge, between Route 123 and Spout Run, is underway. The lane widths have been reduced, using temporary barrier, to provide space for crews to stage equipment. Crews may not be visible to the traveling public as most of the work occurs under the bridge .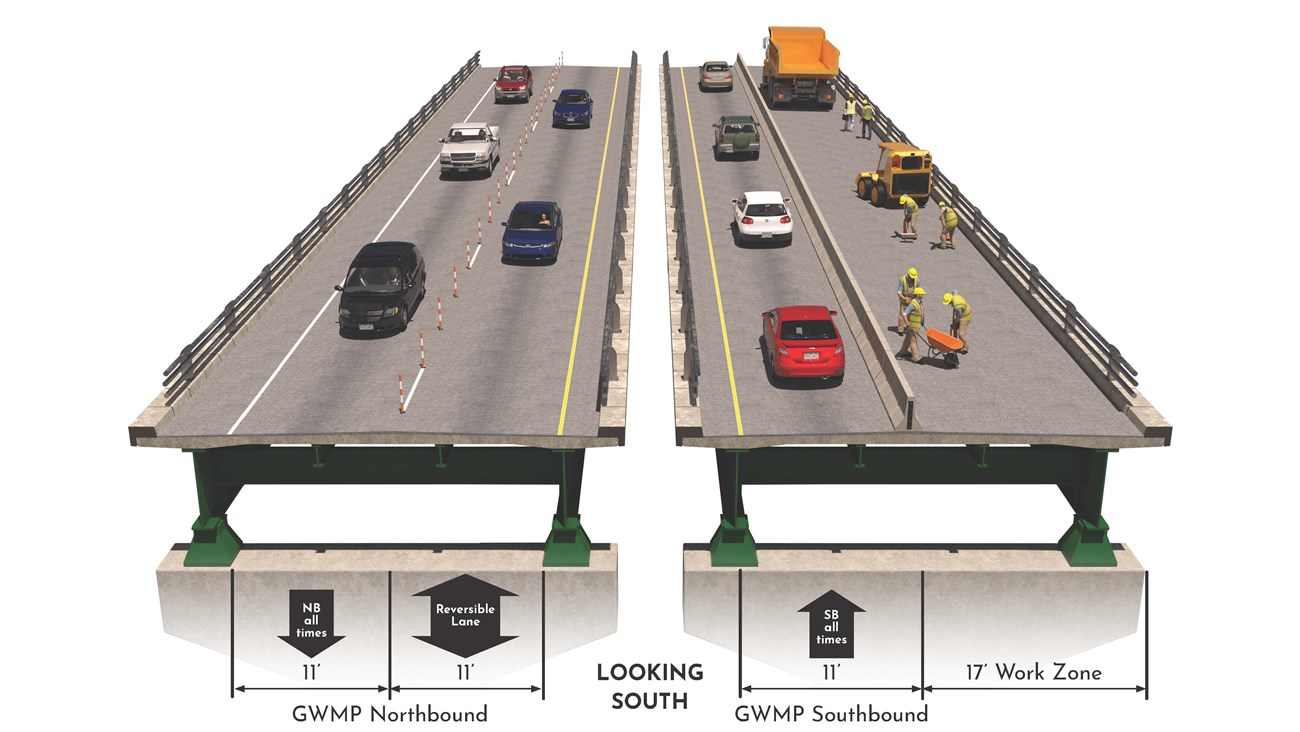 Frequently Asked Questions (FAQs)
This project is the reconstruction of approximately 7.6 miles of the northern section of the GWMP between Spout Run and the I-495/Capital Beltway in Fairfax and Arlington counties, Virginia. This project will improve the driving experience, safety, and water drainage while retaining and enhancing the historic beauty and culture of the parkway.
This rehabilitation includes:  
replacing the asphalt pavement 

redesigning portions of the Route 123 interchange 

repairing stormwater management systems  
replacing and updating drainage inlets and culverts  

stabilizing erosion 

constructing turnarounds for emergency vehicles  

rehabilitating two historic overlooks 

lengthening entrance and exit lanes at some interchanges to improve traffic safety 
reconstructing stone walls and improving roadside barriers 

and re-opening historic views along the parkway
This project is the first rehabilitation in this section of parkway since it was completed in 1962. Once completed, this historic parkway will continue to provide a safe, scenic, and smooth experience for those who are using it to connect to our nation's history or as a way to get to and from our nation's capital.
The National Park Service (NPS), in partnership with the Federal Highway Administration Eastern Federal Lands Highway Division (FHWA - EFLHD), continue the process of rehabilitating the northern section of the George Washington Memorial Parkway (GWMP).
The northern section of the GWMP, between Spout Run to I-495/Capital Beltway, is the busiest section of the parkway and serves about 26 million drivers annually. It is a four-lane divided scenic parkway that is listed on the National Register of Historic Places and serves as a major commuter route between northern Virginia and Washington, D.C., carrying roughly 70,000 vehicles per day. It also provides access to several recreational and historic sites along the roadway. The physical roadway is reaching the end of its lifespan in the northern part of the parkway. NPS wants to rehabilitate the historic parkway to provide a safe and scenic experience while extending its lifespan. This project will repair and rehabilitate deteriorating aspects of the roadway as well as implement safety improvements while preserving the cultural and historical characteristics of the parkway.
Construction activities are tentatively scheduled to begin in August 2022. The project is anticipated to be completed in late 2025.
In September 2018, the NPS achieved a major milestone project by completing an environmental review completed for the rehabilitation. The NPS completed an
Environmental Assessment
and analyzed public comments before deciding how best to rehabilitate the north section of the parkway.
The National Park Service's preffered alterntative for the is intersection is to consolidate Route 123 on-ramps to southbound GWMP at a new intersection east of Pine Tree Road (modified diamond interchange).  Conceptual map is depicted below.

This would:
• Realign entrance to the Route 123 eastbound on-ramp to southbound GWMP mainline. The roadway would be realigned to be opposite the consolidated off-ramp from southbound GWMP.
• Maintain tight northbound GWMP exit ramp to both eastbound and westbound Route 123.
• Remove existing ramps in the northwest quadrant of the interchange (Earth Tech 2005).
• Install SWM best management practices consistent with VDEQ requirements.

For more information see the Enivironmental Assessment document.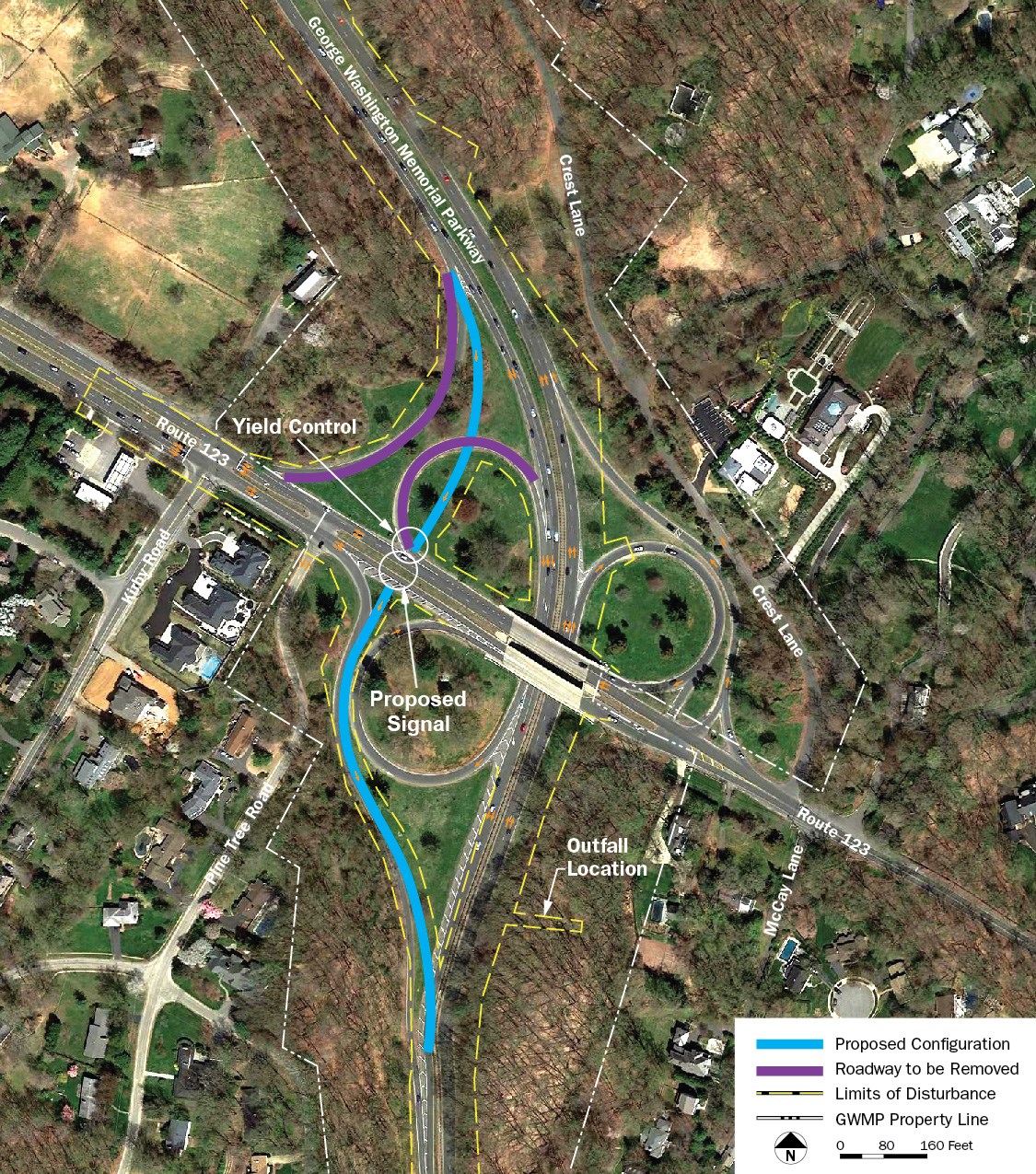 Last updated: March 24, 2023