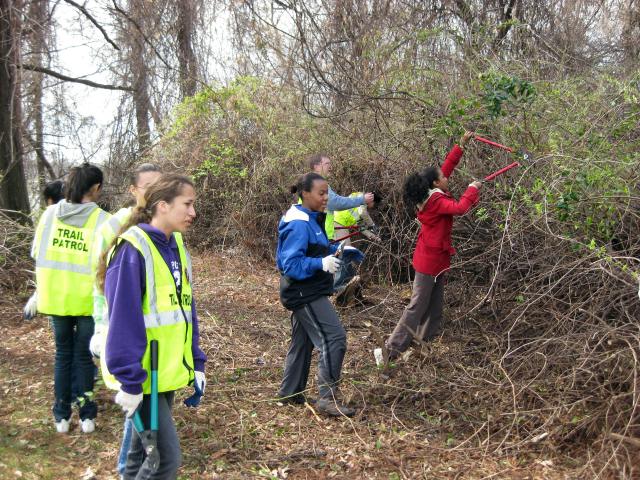 Please visit the Arlington House, Clara Barton National Historic Site, Claude Moore Colonial Farm, Glen Echo Park, Great Falls Park, Lyndon Baines Johnson Memorial, and Theodore Roosevelt Island webpages for information about volunteering at those sites.
Volunteer Opportunity (Park wide)
Weed Warrior (Invasive Plant Removal Assistant)
GOAL: Reduce the threat of non-native invasive plants, protect rare species and restore the biological and cultural integrity of National Park Service lands.
Position: Weed Warrior
Exercise outdoors, learn to identify invasive and native plants, meet new people, and improve the environment in a national park! No experience necessary, all training and equipment provided.
Duties: This activity requires walking on uneven and rocky terrain, bending, using hand tools (hand-saw loppers, or hand clippers) to cut invasive plants. Target species include English Ivy, Amur Honeysuckle, Porcelain berry, Multi-flora Rose, Mile-a-Minute, and others. Volunteers will complete four hours of classroom and field training to learn species identification, proper control techniques, and safe practices. Volunteers will be assigned a work area or join scheduled work groups. All volunteers will be issued tools, wear a safety vest in the field, and record their work.
Locations: Almost all of George Washington Memorial Parkway is available for Weed Warrior activities. These include (but not limited to): Dyke Marsh, Arlington Woods, Turkey Run, Mount Vernon Trail, Potomac Heritage Trail, Fort Hunt, Great Falls, Fort Marcy, Teddy Roosevelt Island, and many more! Schedule: Once work areas are assigned, volunteers may work at their own schedule. Minimum commitment is 4-6 hours per month.
What to Bring: Dress in layers, appropriate for weather conditions, bring water. All tools and equipment are provided by National Park Service.
For more information please contact colin_davis@nps.gov , or call 571-305-3218