Where To Eat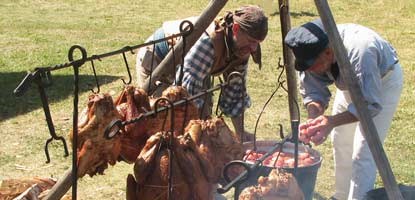 Picnicking
The Monument picnic area is located in what was probably the original
mangeurs du lard
"porkeaters" voyageurs encampment. The setting is right next to Grand Portage Bay on Lake Superior and has magnificent views of P
oint au Chapeaux
(Hat Point) which "guards" the northeastern entrance to the Bay,
Isle au mouton
(Sheep Island) today's Grand Portage Island in the Bay's center and
point a la Framboise
(Raspberry Point) which protects the western entrance.
Picnic tables are located to take full advantage of the scenery which can be a fantastic conclusion or break during your visit to Grand Portage National Monument.
A new picnic area with three tables opened in 2014 at the west end of the heritage center parking lot. This is also where two RV parking areas are located and is the trailhead to the new Mount Rose Loop Trail also opened in 2014. A series of wooden stairways follow a rock wall to a viewing platform. After a gentle half-mile climb, the loop intersects the older Mount Rose Trail near a stunning overllook to Grand Portage Bay.
Where to Eat
The Island View Dining Room serves breakfast, lunch and dinner featuring delicious Northwoods regional specialties like fresh local fish and tender steaks.Hours:

Breakfast 7:00 am – 11:00 am
Lunch 11:00 am – 3:00 pm
Dinner 3:00 pm – 9:00 pm
1-800-543-2309
218-475-2401

Opened in 2017: Grand Portage Lodge and Casino Delicatessen

Chicago Bay Marketplace-Bakery

Bakery, Delicatessen and general store
4971 East Highway 61
Hovland, MN 55606
1-218-475-2253

Naniboujou Lodge & Restaurant

20 Naniboujou Trail
Grand Maris, MN 55604
218-387-2688
Please check with these organizations for more information
Grand Marais Chamber of Commerce

City of Grand Marais
P.O. Box 600
Grand Marais, MN 55604
(218) 387-1848
Last updated: February 13, 2017