Nature & Science

Grand Portage National Monument is listed on the National Register of Historic Places as nationally significant for its, "…association with the fur trade and exploration and colonization of the northwest, its historic/geographic link between the United States and Canada, and its excellent state of preservation in a semi-wilderness setting."
The monument preserves 710 acres which includes: the historic depot (71 acres) located on Lake Superior, the site of Fort Charlotte (98 acres) on the Pigeon River with the Grand Portage (541 acres) connecting the two depots. The 8.5 mile portage corridor and Fort Charlotte (639 acres) contain the majority of the Monument's semi-wilderness setting.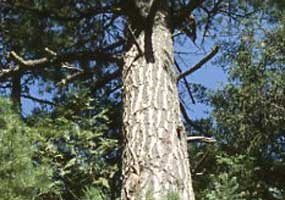 Plants: The historic Grand Portage footpath preserves an important component of the largest terrestrial ecosystem in the world, the boreal forest (the Laurentian Mixed Forest Province of Minnesota). This forest of evergreen and broadleaf trees encircles the earth below the treeless tundra of the polar north and above the broadleaf forest to the south.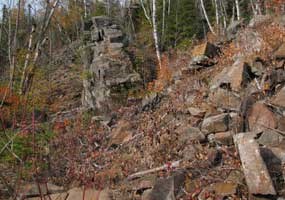 Geology: Rugged hills and boggy lowlands, shear rock cliffs, shallow incised bays and Lake Superior, all come together in the highlands of Grand Portage. This extraordinary and impressive landscape was created by the different weathering rates of two types of rocks produced during Precambrian time. For nearly one billion years, stream erosion and glacial scour have removed much more of the soft than the hard rock leaving a modern relief of more than 600 feet.

Ridges have formed on a coarse, dark, resistant rock known as diabase (di′-a-base); lowlands and bays were produced in softer rocks of graywacke (gray′-wacke) sandstone and shale. The Grand Portage and Mt. Rose trails cross the highland regions which provide panoramic views of one of lowland areas, Grand Portage Bay.

Last updated: April 10, 2015