Join Our Friends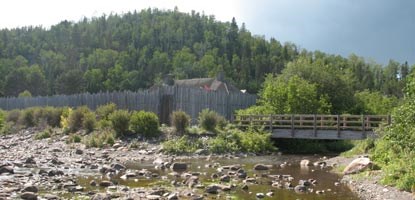 Grand Portage National Monument would not be nearly as successful without support from volunteers, partner contributions and the Eastern National sales outlet. By volunteering or supporting our partnerships at Grand Portage National Monument, you can become more involved in activities at your favorite areas managed by the National Park Service.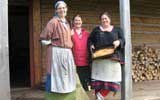 Volunteer
Time is valuable. Perhaps you are a re-enactor interested in sharing your cultural and fur trade passion with families or groups or volunteering your time to interpret history of the fur trade and Native culture to visitors from many backgrounds and places. Perhaps your passion is books and library collections; the Monument is always in need of extra help in one of the finest fur trade and Ojibwe culture collections in the national parks. Whatever your skill or interest, please visit our volunteer page to discover what volunteer opportunities exist that may help you and the Monument achieve more ambitious goals.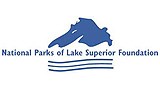 Partner Contributions
National Parks of Lake Superior Foundation
This friends group is a privately supported effort to fund special projects in the five U.S. national park units located on Lake Superior. The five parks are Apostle Islands National Lakeshore, Grand Portage National Monument, Isle Royale National Park, Keweenaw National Historical Park, and Pictured Rocks National Lakeshore.
View the National Parks of Lake Superior Information Card (253 Kb PDF)
Donations to the National Parks of Lake Superior Foundation assist parks with worthy projects over and above funding for basic park operations. Projects include preservation of historic structures and lighthouses, improved visitor services, and enhanced environmental education programs.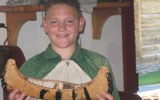 Examples of Grand Portage National Monument park-specific projects sponsored by the NPLSF could include:
Reconstruct main historic bridge over Grand Portage Creek
Endow mentorship program for Grand Portage Ojibwe youth
Develop interactive computer for those not able to travel the Grand Portage
Endow birchbark canoe builder position
Provide for a college student internship at the Monument
The NPLSF is actively seeking partners to assist in developing this special new funding organization to complement efforts by the Friends organizations of individual parks. Please contact the Foundation to learn more about becoming involved in these efforts.
Heart of the Continent Partnership
Heart of the Continent (HOCP) Partnership is a collaborative effort of protected areas on both sides of the border country canoe route, their friends groups and community members who live or play in the region. The HOCP includes Voyageurs National Park to the west, Quetico Provincial Park, Superior National Forest, LaVerendrye Provincial Park and Grand Portage National Monument. For more information on volunteering for HOCP see their website.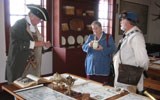 Bookstore
Proceeds from the Eastern National bookstore outlet support the Rendezvous Days special event, the highlight of the summer at Grand Portage. Eastern National contributions allow the Monument to include new presentations every year by re-enactors expert in crafts and knowledge of the fur trade era and include prizes from the bookstore to participants in the diverse contests and games which take place during the event.
Last updated: April 10, 2015