Social Dancing Schedule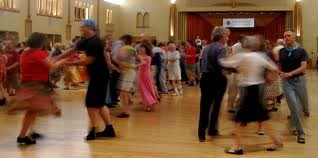 FEBRUARY SOCIAL DANCE SCHEDULE
THURSDAY
February 7
Blues Dance
DJ music
8:15 pm - 11:30 pm
Ballroom Annex, $8
FRIDAY
February 8
Contra Dance
Glen Echo Open Band and caller DeLaura Padovan
7:30 - 11:30 pm
Spanish Ballroom, $10
SATURDAY
February 9
Red Dress Ball and Swing Dance
The Eric Felten Jazz Orchestra
8:00 pm - midnight
Spanish Ballroom, $15
SUNDAY
February 10
Ballroom Tea Dance
Hot Society Orchestra of Washington
3:00 pm - 6:00 pm
Spanish Ballroom, $14
Argentine Tango
DJ music, 6:30 - 11:00 pm
Ballroom Annex, $15 with lesson; $10 milonga only
Contra & Square Dance
Sugar Beat and caller Valerie Helbert, 7:00 - 10:30 pm
Spanish Ballroom
$9 members/$12 nonmembers
TUESDAY, February 12
Mardi Gras Zydeco Dance featuring Nathan and the Zydeco Cha Chas. Enjoy a pre-dance lesson at 8:00 pm, dancing from 8:30 pm - 11:00 pm, and Mardi Gras beads for early arrivals - in the Spanish Ballroom, $18
THURSDAY
February 14
Blues Dance
DJ music
8:15 - 11:30 pm Ballroom Annex, $8
FRIDAY
February 15
Contra Dance
Live Culture and caller Perry Shafran
7:30 - 11:30 pm
Spanish Ballroom, $10
Balboa Dance
DJ Music
8:30 pm - midnight
Ballroom Annex, $10
SATURDAY
February 16
Swing Dance
The Craig Gildner Big Band
8:00 pm - midnight
Spanish Ballroom, $16
SUNDAY
February 17
Waltz Dance
Devine Comedy, 2:45 - 6:00 pm
Spanish Ballroom, $10
English Country Dance
Recorded Music
2:30 - 5:30 pm
Ballroom Annex, $10
Argentine Tango
DJ music, 6:30 - 11:00 pm
Ballroom Annex, $15 with lesson; $10 milonga only
Contra & Square Dance
Taylor Among the Devils and caller Bill Wellington
7:00 - 10:30 pm
Spanish Ballroom
$9 members/$12 nonmembers
THURSDAY
February 21
Blues Dance
DJ music
8:15 - 11:30 pm
Ballroom Annex, $8
FRIDAY
February 22
Contra Dance
Nor'easter and caller Nils Fredland
7:30 pm - 11:30 pm
Spanish Ballroom, $10
SATURDAY
February 23
Swing Dance
Tom Cunningham Orchestra
8:00 pm - midnight
Spanish Ballroom, $15
SUNDAY
February 24
Ballroom Tea Dance
Hot Society Orchestra of Washington
3:00 pm - 6:00 pm
Spanish Ballroom, $14
Argentine Tango
DJ music, 6:30 - 11:00 pm
Ballroom Annex
$15 with lesson; $10 milonga only
Contra & Square Dance
Nor'easter and caller Nils Fredland
7:00 - 10:30 pm
Spanish Ballroom
$9 members/$12 nonmembers
THURSDAY
February 28
Blues Dance
DJ music
8:15 - 11:30 pm
Ballroom Annex, $8
*Information and prices are subject to change. Please contact the dance presenter
for additional information by following the links to their websites.

Please check our hotline at 301.320.2330 for updates due to inclement weather.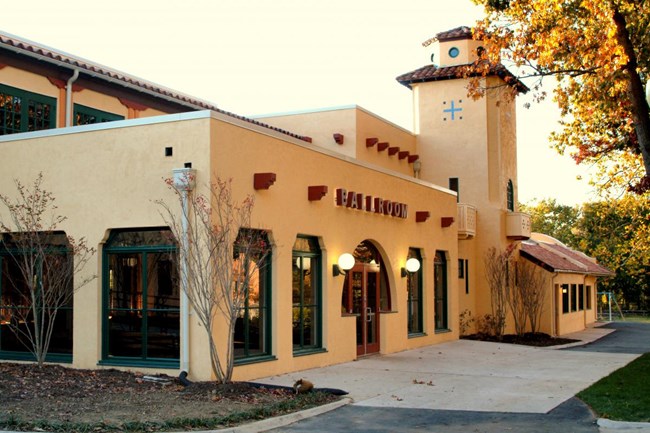 Inspired by Spanish mission architecture, the Spanish Ballroom at Glen Echo Park is equipped with 7,500 square feet of dance floor. This Mediterranean-style Art Deco building was restored in 1933 and is listed on the National Register of Historic Places. Its stage was graced by many of the era's great bands. Nationally-known bands like the Dorsey Brothers, Woody Herman, Stan Kenton and local groups like the Jack Corey Orchestra performed at the park. Even the early rock and roll band, Bill Haley and the Comets, played in the ballroom.
In addition, the ballroom is utilized as a venue for wedding receptions, large corporate gatherings, bar/bat mitzvahs, private dance parties and other events. The Ballroom is available to rent year-round, but peak rental times are from April through June and September through October because because the venue is neither heated nor air conditioned
Last updated: April 10, 2015