Social Dances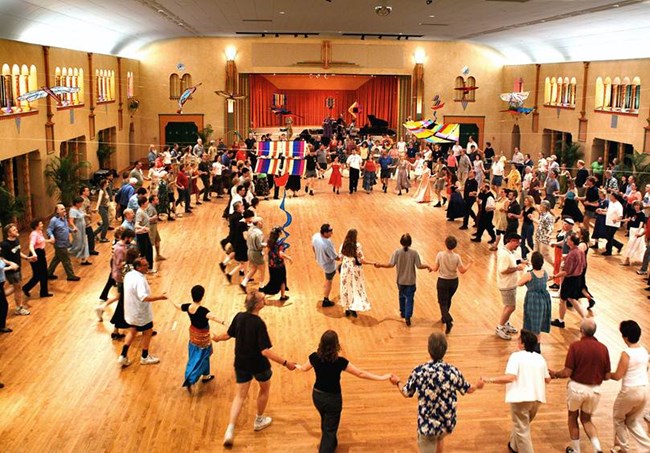 Dancing at Glen Echo Park has been a tradition for 120 years! Today, the park offers regular social dance events and classes in waltz, swing, contra, salsa, and more. Dances take place in the historic Spanish Ballroom, the Bumper Car Pavilion, and the recently renovated, climate-controlled Ballroom Annex. The renovation of the Spanish Ballroom in 2003 brought it back to its original splendor, and it remains the premier site for dancing in the Washington, D.C. area.
All social dances are open to the public, for all ages, with no prior experience or partner required. All dances offer an introductory lessen before the dance begins and most include live music. Tickets are $5 - $20, depending on the dance, and are sold at the door. Tickets generally cannot be purchased in advance. Alcohol is prohibited on park grounds and smoking is prohibited in all buildings. Dress is casual, and layers are recommended, because the dance halls (with the exception of the Ballroom Annex) are neither heated nor air-conditioned.
For more information and to view the current dance schedule, visit our partnership's
Social Dances page
.
Last updated: July 16, 2021