Ranger-led Programs and Activities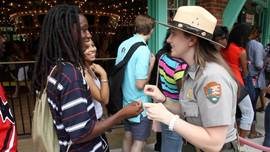 You may make a reservation for any of the programs listed below (if staffing permits). We do require at least three days advanced notice. To make arrangements, call the National Park Service at 301-320-1400. You may leave a message, but the tour must be scheduled with a ranger before it is confirmed. Please indicate which tour your are interested in.
All ranger-led programs and activities are free!
Glen Echo Park Carousel Tour
Where are the carousel's "windows to the past"? How many carousels are protected by the National Park Service? Do you know the difference between a merry-go-round and a carousel? Find out the answers to these questions and much more!
Park History Tour
How many people could swim in the Crystal Pool at one time? How did Glen Echo become part of the National Park Service? Explore Glen Echo Park's history on this tour and find out the answers to these questions and more!
The Civil Rights Story of Glen Echo
This program will explore the Civil Rights issues at Glen Echo Amusement Park and the surrounding area in the early 1960s.
Last updated: July 13, 2015