Surviving Treasures of Glen Echo Park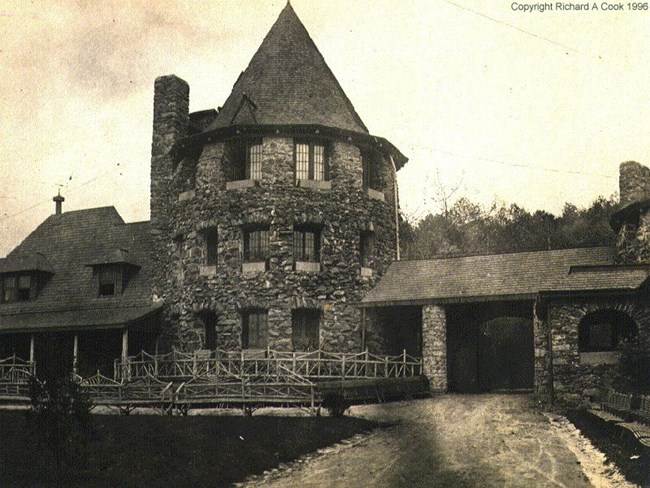 The Glen Echo Chautauqau Tower
Is the only usable structure form the Chautauqua Assembly and as a local specimen of late-Victorian rustic architecture. Construction of the tower was started in either 1890 - 1891, it was completed in 1892. Approximately 34 feet in diameter and three stories high, capped by an 11-sided roof of steep pitch with a flagpole rising from its peak. The tower is a Richardsonian Romanesque circular structure of irregularly shaped, rough-faced stone, dominating the central entrance to the park.
The Glen Echo Chautauqua tower was listed on the National Register of Historic Places in 1980. Today the tower is used by resident artist that stands as a highly picturesque Glen Echo landmark and as a reminder of a significant aspect of the modern community's origins.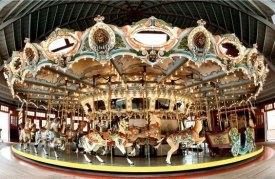 The Dentzel Carousel
During Glen Echo's heyday as an amusement park, the Dentzel carousel was the jewel of the park. An afternoon outing was not complete without a ride on the elaborately decorated carousel. The Dentzel Carousel was installed in a 12-sided canopy building in 1921. Dentzel carousels were known for their realistic, graceful animals and elaborate carvings. The Glen Echo carousel is called a menagerie carousel because it has many different animals. The 40 horses, 4 rabbits, 4 ostriches, giraffe, deer, lion, and tiger stand in three concentric rings, with the romance side - the more highly carved and decorated aspect - facing out and the plain side facing in. The carousel also has 2 circus chariots.
Today the historic carousel - one of the country's finest - is still a highlight of an excursion to Glen Echo Park. Visitors of all ages delight in riding the intricately hand-carved animals, savoring a slice of history as they go.
*****Carousel is open from May -September*****
The Spanish Ballroom
In 1933 the Spanish Ballroom was opened, with 7,500 square feet of dance area to accommodate 1,800 dancers. Its stage was graced by many of the era's great bands. Nationally-known bands like the Dorsey Brothers, Woody Herman, Stan Kenton and local groups like the Jack Corey Orchestra performed at the park. Even the early rock and roll band, Bill Haley and the Comets, played in the ballroom.
This Spanish Ballroom is a fascinating building. It is a magnet for thousands from the surrounding districts and from across the country for the dances that take place here every Friday, Saturday and Sunday, while it also represents a slice of local history and nostalgia.
For more information about the dance program, please click here.
Last updated: April 10, 2015