Water Quality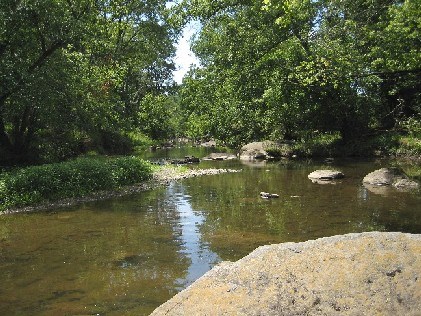 The principle streams in the park are Rock Creek, Marsh Creek, Willoughby Run, and Plum Run, which are components of the
Chesapeake Bay
watershed. Although the streams are not large enough for recreational use, they support a wide diversity of aquatic biota. These surface streams are not currently monitored by the NPS for water quality on a regular basis.
In 1997 Pennsylvania began water quality studies for state streams that were not yet monitored. It was found that nonpoint sources were the main cause of water degradation of the parks' streams. Some of these sources of pollution include runoff of fertilizers from agricultural lands and the introduction of fecal matter and sediments into streams by cattle grazing. Storm water runoff from residential areas is also a source of nonpoint pollution and Adams County is in the process of beginning a countywide storm water management plan with the support of the NPS.
Most of the water provided to the park staff and visitors is supplied by the Gettysburg Municipal Authority. Fifty-four percent of this water comes from groundwater aquifers. In 1997, groundwater wells outside of the park were analyzed by USGS for the presence of chemicals, trace elements, pesticides and purgeable organic compounds in order to characterize the water quality of the area. It was found that water at Gettysburg National Military Park is suitable for drinking.
Last updated: February 26, 2015