Prescribed Fires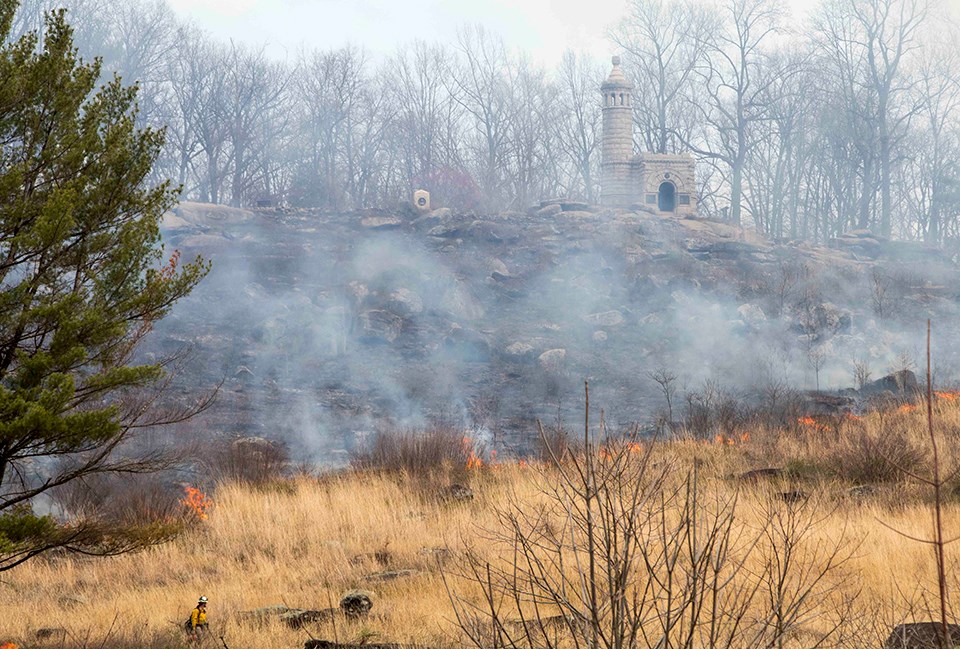 Prescribed Fires
Prescribed fires allow fire managers to conduct a safe burn under optimal conditions with sufficient resources available to meet specific objectives for the management of battlefield resources. Gettysburg's overall objectives are to maintain the conditions of the battlefield as experienced by the soldiers who fought here; perpetuate the open space character of the landscape; maintain wildlife habitat; control exotic invasive species; reduce shrub and woody species components; and reduce fuels in wooded areas to reduce fire hazard.
Fire Management Plan
This long-range
fire management plan (FMP) for Gettysburg National Military Park and Eisenhower National Historic Site
uses the benefits of natural and prescribed fire to achieve desired natural resource conditions in accordance with the Federal Wildland and Prescribed Fire Management Policy (1995, 2001, & 2009). NPS Director's Order #18, Wildland Fire Management (DO-18), requires all Parks units with vegetation capable of sustaining fire to develop a FMP. A combined FMP was developed for both GETT and EISE because the two Parks are contiguous and they are managed by the same NPS staff.
A successful prescribed fire was conducted on the west slope of Little Round Top on April 10, 2017. This area of the park was selected for a prescribed burn because it was an open area at the time of the battle and woody shrubs and invasive species had reclaimed the fields and open areas of the slope.

Duration:

2 minutes, 47 seconds
A successful prescribed fire was conducted on Pardee Field in April 2017. This area of the park was selected for a prescribed burn because it was an open area at the time of the battle and woody shrubs and invasive species had reclaimed the fields and open areas of the slope.

Duration:

1 minute, 43 seconds
A successful prescribed fire was conducted on approximately 100 acres between Devils Den and South Confederate Avenue on April 14, 2018. Gettysburg's overall objectives are to maintain the conditions of the battlefield as experienced by the soldiers who fought here; perpetuate the open space character of the landscape; maintain wildlife habitat; control exotic invasive species; reduce shrub and woody species components; and reduce fuels in wooded areas to reduce fire hazard.

Duration:

2 minutes, 42 seconds
On April 11, 2019 Gettysburg NMP conducted a successful prescribed fire on the southern portion of the battlefleld near the Bushman and Slyder farms. Gen. Hood's Confederate division marched through this area on the afternoon of July 2, 1863 and Gen. Farnsworth's Union cavalry brigade conducted an ill-fated attack against Gen. Law's division (after Gen. Hood's wounding) in this area on July 3, 1863.

Duration:

3 minutes, 26 seconds
A successful prescribed fire was conducted on the west slope of Little Round Top and at Munshower field, just north of Little Round Top, on April 17, 2021. This area of the park was selected for a prescribed burn because it was an open area at the time of the battle and prescribed fires are a successful tool in managing invasive plants and promoting native species.

Duration:

2 minutes, 8 seconds
Prescribed Fires throughout the National Park Service
Last updated: June 2, 2021