Prairies and Grasslands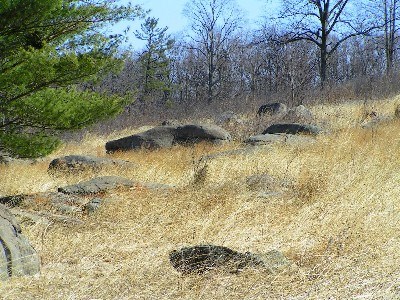 Grasslands are considered by many as one of the most endangered ecosystems globally. Grasslands were once abundant in the 1800's when settlers had cleared much land for hayfields and pastures. Today grasslands face danger from fires, human development, and changes in agriculture technology.
Grasslands are important because they protect large amounts of open space and provide wildlife and nesting habitat for specialized species. The ecosystem is especially important to birds such as the Bobolink, Savannah sparrow, and the Eastern meadowlark. Grassland birds require large contiguous patches of grassland habitat for successful breeding. Many grassland birds will only nest in this type of open grassland habitat and decline in grasslands causes decline in breeding birds.
Much of Gettysburg NMP is considered grassland habitat. The park was designated one of several Important Bird Areas in Pennsylvania set aside to protect birds and grassland habitat. In efforts to maintain the characteristics of an 1863 landscape much of the main battle action resource areas are being converted from large agricultural fields to smaller contiguous patches of native grasses. The restored field patterns will better reflect historic 1863 conditions and provide valuable grassland habitat.
Last updated: February 26, 2015